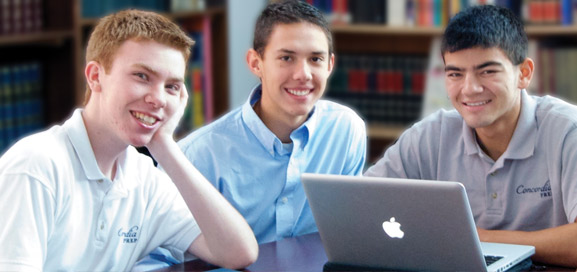 by Gretchen Roberts
When Salt Lake Lutheran High School was founded in 1984 as a cooperative among four area LCMS churches, the school faced several immediate and long-term challenges. For one, the real-estate mantra "location, location, location" was an ongoing issue. Having begun in a church basement, the school eventually moved to an area of the city that wasn't supportive of private faith-based education, and the school struggled with low enrollment and poor finances. Plus, Lutheran is practically a foreign word in Mormon country.
"We had a lot of prospective parents asking, 'Do we need to be Lutheran for my child to attend?' and 'What is a Lutheran, anyway?'" says principal Darren Morrison.
The school has historically enrolled about 80 percent of its students from three "feeder" schools—Lutheran grade schools whose students go on to Lutheran high school. But only a quarter of the student population is actually LCMS Lutheran, which means a huge opportunity for sharing the Gospel of Jesus Christ with the student body and their families.
"Four years ago, one of our students was baptized in a chapel service, and his family joined one of our partner churches," Morrison says. "Our biggest blessing is the continued opportunity to share our faith in Jesus Christ with students who have never heard the Good News. They often enroll for the quality education, and then they take theology classes, where we can see the Spirit working in them and bringing some of them to faith."
Still, the school's ongoing budget issues and declining enrollment, even with generous financial support from its association congregations, demanded change. In 2010, with an opportunity to buy a building on the west side of Interstate 15, SLLHS and its partner churches executed a makeover. With help from the Lutheran Church Extension Fund, they conducted a market-feasibility study and found that parents in the new area were willing to pay for private education—and that they would be the only private high school west of I-15.

Shortly before the move, Salt Lake Lutheran High School was renamed Concordia Preparatory School. "Because there is a lot of ignorance about Lutherans in Salt Lake City, we wanted a name that would immediately signify we're a college prep school, but that would incorporate our Lutheran roots," Morrison explains. Concordia — a traditional Lutheran term that means "harmony"— fit the bill perfectly.
Tia Donohoe, director of admissions and marketing and CPS's business officer, says she has been successful presenting Concordia as an academic powerhouse to parents who don't see faith-based curriculum as a priority. "Utah's public school graduation rate is around 78 percent, while ours is 99 percent. We promote our collegiate atmosphere and then we get to do a little ministry," she says. "It's an amazing experience."
Running a Lutheran high school among a large Mormon population has its challenges, but Morrison doesn't think being in the religious minority is one of them. "I grew up here, so it's all I've ever known. What was shocking for me was attending college at Concordia, Seward, where the majority of people were of my faith. My familiarity with the Salt Lake area has prepared me for this position."
In school, students learn how to carry out their vocations at home and around the world. Their chapel offerings sponsor a little boy in the Dominican Republic. Students work with the school's partner congregations and with area nonprofits to do service projects. One year, students helped with fundraisers to bring three girls in from the Themba Trust, a Lutheran, South African, faith-based organization that equips young people to live for Christ. The girls, along with LCMS member and jazz singer Erin Bode, performed a concert open to the Salt Lake valley.
"We see God working here every day. So many times our school should have closed, but didn't. We have seven amazing congregations as our partners. Our kids know their stuff," Donohoe says.
"What the Mormons do just makes our job at Concordia that much more important," she continues. "Latter-Day Saints are ardent missionaries, and they question you. You have to know your theology around here."
About the Author: Gretchen Roberts is a freelance writer and a member of Praise Lutheran Church, Maryville, Tenn., where her husband, Derek, serves as parish pastor. In addition to her vocations as wife, mother and writer, she serves on the Concordia Publishing House board of directors.