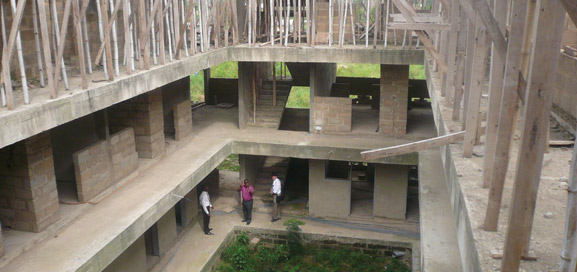 by Kim Plummer Krull
Growing up in St. Paul, Minn., Marion Johnson and Orville Lundstrom took an interest in mission work. Although Orville considered becoming a Lutheran missionary in Africa, he pursued a career as a geologist. His future wife, Marion, became a teacher.
The late couple never served as missionaries. Still, they served the Lord on the continent that held a special place in their hearts.
"For our parents, supporting the mission field was a very special commitment to spreading the Good News of salvation around the world," say the Lundstroms' daughters. "Supporting the new Lutheran seminary in Ghana, West Africa, to train future pastors in God's Word was a way to do that."
Several years ago, the Lundstroms, members of St. Matthew Lutheran Church in Houston, began sharing their blessings to help replace the cramped seminary of the Evangelical Lutheran Church of Ghana (ELCG), one of the oldest LCMS partner churches in Africa.
The current seminary, located in the ELCG headquarters in Accra, can graduate only 14 students every four years. More pastors are needed to serve the church body, which has some 29,000 members in 200 congregations and 300 preaching points served by 25 pastors.
Thanks to generous donors such as the Lundstroms, a new seminary is under construction that will accommodate up to 60 students.
"Marion had a passion for Ghana and enthusiasm for making a significant contribution to the seminary," says Terry Biesboer, one of several mission advocates serving in Synod's Mission Advancement unit.
"Orville was a very keen and astute businessman who loved the Lord and sharing the Gospel. And his wife meant the world to him." Marion went home to be with Lord in 2000, and Orville honored her memory and wishes with ongoing support for the effort in Ghana. Orville fell asleep in Jesus in late 2011.
The Lundstroms' daughters continue to support the seminary that meant so much to their parents, fulfilling a cherished dream for Marion and Orville – and their beloved mission field.
About the Author: Kim Plummer Krull is a freelance writer and member of St. Paul's Lutheran Church in Des Peres, Mo.
Involve