by Kim Plummer Krull
Before Rev. Jeffrey Horn accepted the call to serve as an LCMS career missionary in Papua New Guinea, he considered the challenges:
leaving the parish ministry and a beloved flock after 15 years.
ensuring that his wife, Lora, also wanted to make the dramatic leap from their Garrett, Ind., parish — Zion Lutheran — to a remote mission field with a new culture and more than 900 spoken languages.
asking the couple's children to say goodbye to friends, grandparents, pets and snow.
But even as Horn, 42, weighed the hurdles, he says "a pressing need" weighed on his heart.
"The need in Papua New Guinea is strong," he said. "Their system for training pastors has broken down in many ways, and if . . . they don't find a way to get that going again, they won't have pastors to help the churches; the churches then will struggle, and lots of the people who came to faith in the last 20 to 40 years might not have that faith preached to them."
Longtime Desire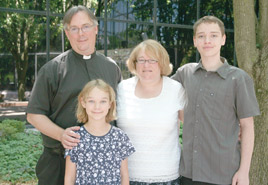 Since his childhood in Los Angeles, Horn has longed to serve as a pastor and a missionary. He remembers hearing a sermon when he was around age 6 about the need to reach all people with the Gospel. He felt the pastor was speaking directly to him.
Growing up with an international mix of friends fueled his desire to be a missionary, Horn says, making him a person who enjoys "other cultures and people from all over the world."
But when he graduated from Concordia Theological Seminary (CTS) in Fort Wayne, he and Lora decided the parish provided a better fit.
He loved serving in the parish, Horn says, but conversations about Papua New Guinea with Rev. Dr. Timothy C.J. Quill, director of LCMS Theological Education, and Rev. Dr. John L. Mehl, LCMS regional director, Asia Pacific, reignited a longsimmering aspiration.
Lora was not surprised when her husband expressed interest in Papua New Guinea. Even when the couple was dating, she knew Horn wanted to serve as a missionary. Likewise, she felt a pull toward the mission field. "It's the ability to meet my brothers and sisters in Christ across the world," Lora said. "It's giving that experience to my children, too, that I think is important."
When their parents first told Chris, 15, and Maggie, 10, about the call, the siblings understandably needed time to adjust.
"I'm excited about it, but I've been in Indiana all my life, so it's a bit hard to leave," said Maggie, who accompanied her parents at the missionary orientation this summer at the LCMS International Center in St. Louis.
Maggie said she knows Papua New Guinea is a tropical country near the equator. "That's so-so," she said, "because I like playing in the snow."
Her greatest uncertainty is leaving behind the family's dog and two cats. ("Papua New Guinea has restrictions about pets entering the country," Horn said.)
Jeff Horn understands that the family's move, scheduled for May, poses a huge transition for the children. Maggie and Chris have shown "a lot of courage," he said. "It hasn't necessarily been easy for them, but they have adjusted very well and have taken up saying, 'If this is what our family is going to do, then let's do the best we can.'"
New Opportunities
A resurgence of a false teaching called the "spirit movement" looms in the Enga province, the home of many congregations of the Gutnius (Good News) Lutheran Church (GLC), an LCMS partner church. "The Gutnius Lutheran Church leaders understand that if they do not raise the theological level of their clergy, the church is in danger of losing her Lutheran identity and will cease to exist — that is, it will be Lutheran in name only," Quill said.
Horn's "combination of extensive experience as a parish pastor along with ongoing theological studies have prepared him well for this missionary position," Quill added, noting that Horn completed a master's in sacred theology at CTS. The new missionary's call is to train and support GLC pastors, teaching at Timothy Seminary and traveling to villages to provide continuing education. "Rev. Horn will have the opportunity as a seminary professor to teach what he has done. He will be able to bring real examples into the classroom," Mehl said. As Horn learned more about LCMS work that began in 1948 in Papua New Guinea, he was amazed by the courage and persistence of pioneering missionaries who "went into the mountains and jungle to be among the tribes and bring the Gospel" at the invitation of the Enga people.
The missionaries "worked and worked for nine years" to prepare the Enga for the first group baptism, Horn said of the Rev. Otto Hintze and the Rev. Willard Burce, the first LCMS missionaries to reach out to the Enga, a primitive people who still used stone axes and whose only religion was a cult of the dead.
On a single day in 1957, the missionaries baptized 79 men, women and children; a second group baptism followed, of 298 people, both milestones in the life of the GLC. The church now operates health centers and schools and has grown to a baptized membership of more than 54,000 in some 550 congregations.
Horn bid farewell to Zion Lutheran Church in July in order to prepare for the mission field. Zion congregants were sorry to lose their pastor but supported his desire to serve in the mission field. "I think they really have helped train me to go," Horn said of the Zion congregation.
God will Provide
Along with learning the Pidgin language, Horn is working to raise financial gifts to help support the family while they serve in Papua New Guinea.
Horn says he and Lora feel comfortable "knowing God will provide." At the same time, they understand that "a lot of hard work" is needed from a missionary couple even before they leave home.
"If it comes down to a choice between saying there's no money [to support a missionary family in Papua New Guinea] and staying home, we'd rather be out raising the funds," Horn said.
Tackling Challenge Before Leaving Home
Even longtime LCMS members may be surprised to learn that part of an LCMS missionary's work involves fundraising.
Before Rev. Jeffrey Horn heads to Papua New Guinea this spring, he must raise $164,000 — a sizable chunk of the ever-growing cost to support a missionary family in the field.
While Horn calls the figure "somewhat intimidating," he also views it "as a very effective investment in the life of the church." He's spending a lot of time these days visiting congregations and individual members throughout the country, talking about ministry needs and opportunities in Papua New Guinea.
"There's really a lot of joy in it, getting to know people, visiting them in their homes and at potlucks, building relationships and, hopefully, encouraging them to join us in the good work that needs to be done to train pastors to preach the Word," Horn said.
To learn more about the Horns and mission work in Papua New Guinea, visit www.lcms.org/horn, email jeff.horn@lcmsintl.org or follow Horn on Facebook.
Involve
About the Author: Kim Plummer Krull is a freelance writer and member of St. Paul's Lutheran Church in Des Peres, Mo.