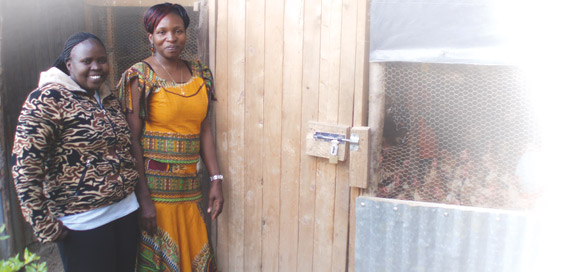 Deaconesses are "tireless workers, carrying out God's mercy and compassion for people throughout Kenya," says the Rev. David Chuchu, the ELCK Diakonia Compassionate Ministry (DCM) project coordinator. But deaconesses also struggle with many of the same financial strains that affect the people they serve.
Today, small-business training and a micro-loan project made possible with help from an LCMS Mercy Grant encourage deaconesses who pursue their own entrepreneurial projects. Messiah Lutheran Church, Danville, and Holy Cross Lutheran Church, Rocklin, both in California, have also provided financial support.
he goal is to help the women "gain confidence, financial independence and a sense of pride in their work, both as a businesswoman and as a deaconess," Chuchu says. "This will, in turn, allow them greater freedom to serve others through the love and mercy of Christ."
Deaconess leaders completed project training last year in Kisumu. Grace Jobita, a micro-loan consultant, taught business components; the Rev. Dr. Arthur Just, professor, Concordia Theological Seminary, Fort Wayne, Ind.; and Deaconess Pamela Boehle-Silva, RN, of Holy Cross Lutheran Church, led theological insights and made home visits.
Now the trained deaconesses are shepherding groups in dioceses of the LCMS partner church in Kenya, helping others form savings groups and apply for micro-loans to start businesses. Entrepreneurial pursuits include brick making, dairy farming, importing shoes and raising rice and vegetables.
The project is open to all ELCK deaconesses. Long-range plans are for ELCK pastors, evangelists and congregations to also participate.
Mary Khainga, a deaconess trainer in the Central Diocese, is selling eggs. The micro-loan will enable her to purchase more chickens and feed to make her business, which has operated in the red, more successful.
"With a greater number of chickens, [Khainga] will reach and be able to surpass the break-even point to begin generating additional income for herself and her family," Chuchu says. "She is thankful for the support and benevolence that this program is providing to the deaconesses of the ELCK."
Involve