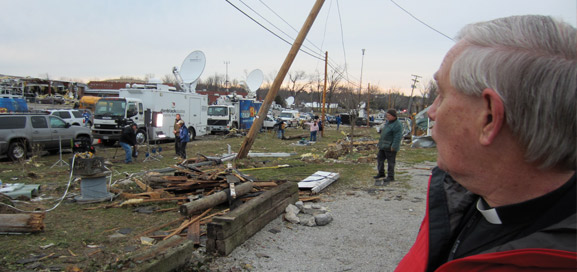 by Edward Grimenstein
Pastor, how long do we need to keep meeting with people in our neighborhood?" "Pastor, how much longer will the volunteers be coming?" "Pastor, haven't we already done enough?" These words, often spoken in the aftermath of a disaster, echo Peter's: "Lord, how often should I forgive my brother when he sins against me?" Peter asked. "Up to seven times?" (Matt. 18:21). Peter wanted to know when forgiveness could end, when he could stop. Our response echoes Jesus': "Just as My compassion and My Father's compassion for you never ceases, neither should your love and mercy for others ever cease (paraphrase)."
LCMS Disaster Response takes the words of Jesus seriously. We believe that the Church's work of providing mercy in this world should not cease until this earth itself does. That's why the LCMS has been purposeful in coming alongside districts, congregations and partner churches as they reach out to those who are suffering, those who know and remember the painful, deep wounds of a disaster.
That's also why, in the past 10 years, we have awarded 758 domestic and international disaster grants totaling $33,262,018. This assistance created opportunities for relief and recovery work following hurricanes, earthquakes tornados, floods and wildfires. And this is just the tip of the iceberg when it comes to our work together as Synod!
LCMS Disaster Response also trains districts and congregations on how to respond to disasters. We've even constructed a new program called "Mercy in Action" in which interested people in districts and congregations attend local training events that encourage them while caring for those in need.
With this training in hand, members are able to provide lasting care to people who need it, for as long as they need it. When people know what to do in a disaster and how to provide Christ's mercy to their community, they are willing, just as Christ was, to walk along with those who are suffering and to show them mercy, no matter how long it takes.
Following a disaster, care for our brothers and sisters in Christ and for those who still need to hear Christ's life-giving Gospel may last weeks, months, even years. But one thing is certain: The Church doesn't leave people when times are tough. And we don't abandon them when the road is long.
Christ came to us, took on our flesh, bore our sin and still does to this day. Thanks to Him, we in the Church can continue to share with Him in showing mercy to this world from now until the day He returns.
2002-2012 LCMS Disaster Response:
508 domestic disaster grants in 32 LCMS districts $20,758,288 
250 international disaster grants in 59 countries $12,503,730 
3,000 Disaster Kits distributed
About the Author: The Rev. Dr. Edward Grimenstein was recently called to be the director of personnel for the LCMS Office of International Mission. He and his wife, Tevia, have six children. They are members of Hope Lutheran Church in St. Louis.