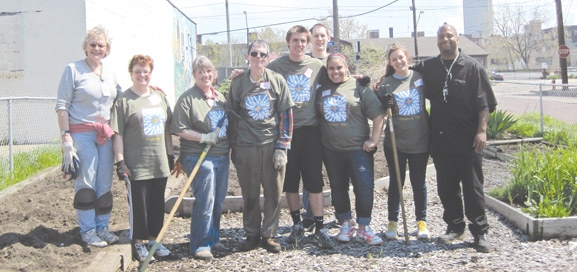 by Kim Plummer Krull
They "helped me take the next steps," said Eric, an Army veteran who arrived at the Men's Shelter at 2100 Lakeside last year with no job or housing. By this past spring, Eric was living in his own apartment and doing maintenance work for eight apartment complexes.
Lutheran Metropolitan Ministry (LMM), an LCMS Recognized Service Organization, operates the shelter, linking residents with housing, GED classes, job-readiness preparation and work experience. Volunteers play an important role as they help people in transition and crisis move toward self-sufficiency.
"The shelter's volunteer program is providing vital interaction and service with those who are oppressed, forgotten and hurting. Such service was central in the life of Jesus," says LMM Volunteer Coordinator Lydia Bailey, citing, "Whatever you did for the least of these you did for me"(Matt. 25:45).
With the help of an LCMS Mercy Grant, the shelter continues to draw a strong force of helping hands and enhance connections with residents. Some highlights of the volunteer program that comprised more than 1,800 volunteers serving more than 2,600 residents between January and May 2011 include:
Strengthening the legal clinic and computer lab with new volunteers from businesses, churches and other partnerships.
Donating and serving 19,000 meals, reducing shelter expenses by $11,450 in food alone.
Leading a poetry group that resulted in the publication of residents' work. In addition to providing an avenue for self-expression, the book continues to raise awareness of homelessness and generates funds for GED classes.
Planting a vegetable garden. Volunteers and residents worked with the Ohio State Agricultural Extension to grow produce for shelter meals and promote a good- neighbor spirit.
Just as Bailey and co-workers thank LCMS supporters who made possible the Mercy Grant, Eric expresses his gratitude to LMM and volunteers.
"Now that I'm back on my feet, I want to volunteer with LMM, with all the other great volunteers and staff at the shelter," said Eric. "I am grateful to you all."
Involve

Print page