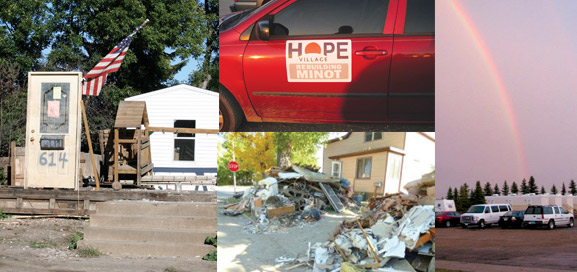 by Megan K. Mertz
More than 4,100 families from the Minot, N.D., area lost their homes and possessions when the Souris River rose during the spring of 2011. Heavy rains caused flooding there and in many parts of the Midwest, forcing thousands of people to evacuate. Since then, the LCMS, through its Disaster Ministry, has given several grants to help sustain long-term recovery efforts. Initially, grant money helped congregations in Minot provide meals, gift cards and other financial assistance to help cover unmet needs of families affected by the flooding.
In addition, almost $400,000 has been given to establish Hope Village, a volunteer-services center that coordinates the relief efforts of faith-based organizations. Before Hope Village opened, volunteer teams were driving 25 to 65 miles to their job site each day because of a lack of nearby housing.
Hope Village opened on the grounds of Our Savior Lutheran Church April 1, 2012, with the capacity to provide housing and meals for up to 250 volunteers a day. Staff estimate that over the summer, the center helped to facilitate approximately $1.1 million worth of volunteer labor.
But Hope Village provides more than just a place for volunteer teams to sleep. The program also includes a spiritual care component for flood survivors and volunteers. "As the people of God respond with the acts of mercy that restore a physical home, God Himself is at work with acts of grace, opening the doors that bring Gospel healing and restoration of the spiritual soul," said Rev. Paul Krueger, pastor of Our Savior. For the city of Minot, recovery is a slow process that is estimated to take three to four years. But even as other sources of disaster funding run out, the LCMS will still be there, providing physical and spiritual care to the people who need it.
RECIPIENT: Hope Village, Minot, N.D.
AMOUNT: $400,000
TOTAL SINCE APRIL 2012:
198 Volunteer Groups
1,743 Volunteers
62,766 Volunteer Hours
About the Author: Megan K. Mertz is a staff writer for LCMS Communications. She and her husband, Jonathan, are members of Mount Calvary Lutheran Church in Brentwood, Mo.