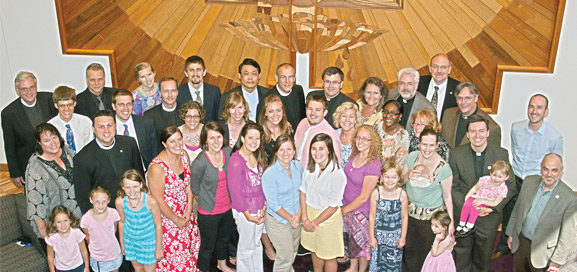 by Pamela J. Nielsen
[quote style="boxed"]"It's a very big and exciting week here," noted Travis Torblaa, who helps to plan every detail of Missionary Orientation. This annual event, coordinated by the Ministry Mobilization Team of the LCMS Office of International Mission, is an intense two weeks of teaching in which new missionaries and their families interact with nearly the entire staff at the LCMS International Center, as they learn about the people and resources who will serve as part of their network of support before, during and after they arrive on the mission field.[/quote]
"It starts with the on-boarding here and then launching them out to service onto the field, sustaining them while they are there and repatriating them back into the United States when their time of service has ended," said Torblaa.
Following the orientation, the Ministry Mobilization Team's efforts continue to coordinate resources and help in the areas of vocation, theological education, mental and physical health, self care, communication, crisis management, and finance. Torblaa noted, "All of this is built around Lutheran worship—that is the center—that they have access to the Word and Sacrament."
"What sets missionaries apart from the rest of us? It is that they are leaving the comfort of their homes, their families, their support systems, and they are venturing out into totally foreign territory to bring forth the Good News of Jesus. When we see that, we say, 'This is what the church is all about. The church coming together, in our life together, to send missionaries," commented Pastor William Weedon, International Center Chaplain and LCMS Director of Worship, who served as the catechist and worship leader for the orientation.
Built around the Apostles' Creed, this year's theme focused on the creed as a ready-made witnessing tool.
"The goal was that they have in their heads and their hearts —a very firm understanding of the structure of the mission—that it comes from the Father, through the Son, in the Spirit to bring people by the Spirit, in the Son, to the Father," said Chaplain Weedon. Participants worked through the explanation to the Apostles' Creed in Luther's Large Catechism.
The daily worship services with present and former missionaries unpacking texts from the Book of Acts, helped underscore that the missionary's job is not to convert people. "A missionary's job is to preach the Word of God, which converts where and when the Holy Spirit pleases in those who hear the Gospel," noted Weedon. A pattern of daily prayer and devotions was taught and modeled using resources such as the Lutheran Service Book and Treasury of Daily Prayer, published by Concordia Publishing House.
In our life together — when we pray for the missionaries and give our financial support, and hear their stories about the people they have cared for— we become part of their missionary story, and it becomes our story!
Involve
[do action="invest" tier1="Office of International Mission" tier2="Ministry Mobilization" tier3="Ministry Orientation" budget="80,000″ email="mission.advancement@lcms.org" givenow="http://www.lcms.org/givenow/globalmission"/]