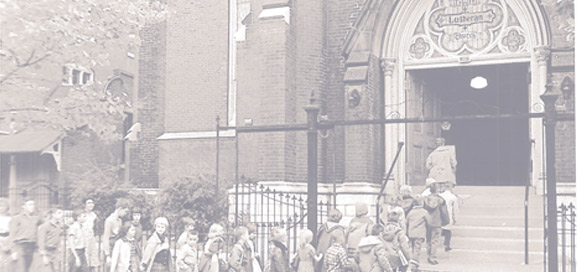 by Laura Marrs
When 12 pastors representing 14 congregations gathered in chicago in 1847 to form what we know as The Lutheran Church—Missouri Synod, one of their reasons for coming together as a synod was "the promotion of special church projects," which included school books. The first constitution of this new church body notes under the heading "Conditions under which a congregation may join Synod and remain a member" is the "provision of a Christian education for the children of the congregations" (Concordia historicaI Quarterly 16:1, April 1943).
Histories have been kept on 13 of our founding congregations, and each had a day school right from the start, demonstrating the importance of Christian education within these Lutheran communities.
Shoes, Ships and Short School Terms
St. Paul's in Fort Wayne, Ind., is the earliest Lutheran school in continous independent operation. Founded in 1837, this year is the 175th anniversary of both the church and the school.
St. John, Maryville, Ohio, records that Pastor Adam Ernst was both teacher and pastor. A cobbler by trade, he cobbled shoes in the evening to earn a living.
First Trinity Lutheran, Buffalo, New York, notes in their 1929 anniversary service booklet that the church was organized by "immigrants who came to this country to escape the persecutions of a tyrannical government that forbade them to conduct Lutheran services and to instruct their children in Luther's Catechism."
Trinity, St. Louis, Mo., dates the beginning of the school to 1839, but in reality, school lessons took place on board ships, as her founders immigrated to the United States from Germany in 1838.
St. John Decatur, Ind., had a school term that lasted only four to six months. This was lengthened when a teacher was installed. Located in a rural community, school was often dismissed during times of harvest.
In Our DNA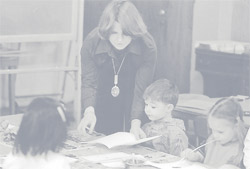 From these humble but determined beginnings, the LCMS now has more than 1,300 early childhood centers and preschools, 879 elementary schools and 88 high schools educating over 229,000 students all across America. Of these, 700 schools are accredited under the National Lutheran School Accreditation program. International schools in Hanoi, Vietnam, Hong Kong and Shanghai are part of this story. On mission fields across the globe, the LCMS has sent missionaries assigned to Christian education in the day schools of partner churches.
By 1900, the Synod also had five colleges. Located in River Forest, Ill. (1864); St. Paul, Minn., (1893); Seward, Neb. (1894); Milwaukee, Wis. (1881); and Bronxville, N.Y. (1881), they trained
Lutheran teachers for service in the rapidly growing number of LCMS parish schools.
Today, LCMS colleges and universities number 10 and total enrollment for the Concordia University System is near 30,000 students annually. These places of higher learning not
only train workers for service in the church, but they also prepare students for service in this world through more than 360 undergraduate and graduate programs. Add to these the fact that our two LCMS seminaries in Fort Wayne and St. Louis have been in existence longer than the Synod itself, and it is clear that Lutheran education is part of the DNA in The Lutheran—Church Missouri Synod!
About the Author: Laura Marrs is head reference assistant at Concordia Historical Institute. She is a member of Concordia Lutheran in Maplewood, Mo.