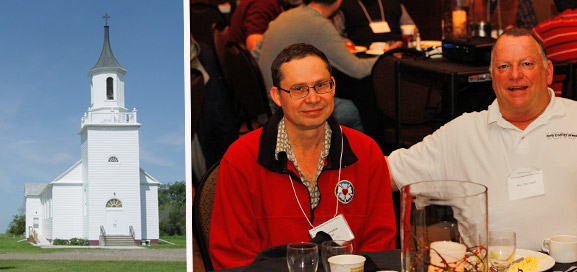 Separated by more than 70 miles, the North Dakota congregations of St. John, McClusky; St. John, Underwood; and Trinity, Hazen, have formed a partnership called the "Highway 200 Lutherans." Rev. Dean Hartley leads all three congregations, with the assistance of one lay minister and many dedicated members. These rural congregations are finding new ways to work together to survive, thanks, in part, to LCMS Rural and Small Town Mission (RSTM).
"Rural and Small Town Mission helped us to look at the cultures [in our midst] and find our strengths," said Hartley. "Now members who thought their church was dying are excited again."
This excitement produces real results. Members at the three churches have stepped up to lead evangelism programs, and new families have been attracted. Trinity, Hazen, has a Sunday school for the first time in nine years. "We're not growing by leaps and bounds, but each year we hold new membership classes and baptisms," Hartley said.
Rural and Small Town Mission, located in Concordia, Mo., is a ministry of the LCMS Office of National Mission. It started about 10 years ago to address the unique challenges facing rural and small-town congregations, which make up more than 50 percent of the churches in the Synod. Although each congregation is different, many face similar problems, such as shrinking populations, aging congregations and lack of hope for the future.
RSTM helps congregations become aware of the changing demographics around them, and it provides tools and ongoing leadership training for pastors and lay leaders. The ministry also emphasizes the importance of working in partnership and collaborating with districts and other congregations, said Rev. Dr. Lee Hagan, interim director of the program.
In addition to its national conference earlier this month, RSTM organizes events throughout the Midwest. In 2012, RSTM began offering webinars that address specific ministry topics, such as outreach to older adults and Hispanic outreach in rural settings. The webinars save pastors and lay leaders the time and expense of traveling to an event.
"RSTM is bringing the mission priorities of the Synod to rural and small-town congregations in a way that connects with their unique demographic, cultural and missiological needs," said Rev. Bart Day, executive director of the Office of National Mission. "RSTM is helping us meet both the challenges and the tremendous opportunities for spreading the Gospel."
In 2012, Rural & Small Town Mission Held:
15 webinars
11 Engaging Rural Communities Events
2 events for seminary graduates heading to rural and small-town settings
1 national conference
Learn More
To learn more about the ministry of Rural and Small Town Mission, visit www.lcms.org/rstm.