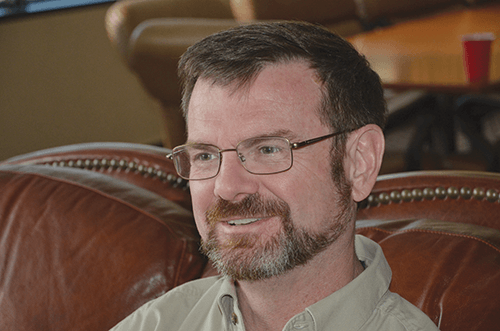 by Megan K. Mertz
For I am sure that neither death nor life, nor angels nor rulers, nor things present nor things to come, nor powers, nor height nor depth, nor anything else in all creation, will be able to separate us from the love of God in Christ Jesus our Lord" (Rom. 8:38–39).
As chaplain at Carle Foundation Hospital in Urbana, Ill., Rev. Jeffrey McPike shares the love of God in Christ on a daily basis with people who often feel separated from God because of their medical condition. He provides spiritual care for patients in the surgical intensive care unit, the inpatient rehabilitation unit and a 45-bed surgical floor — some 80 beds in all.
1. What is your chief task at the hospital?
I visit patients and assess for spiritual needs. Then I try to provide for those needs or, as I tell people, "If I can't do it, I find somebody that can."
2. What tools do you use in your work?
My ears. The most important thing to take into that room is ears to listen. This helps guide the application of God's Word and prayer to meet the person where they are.
3. Where does mercy fit into end-of-life matters?
Hospital chaplains are willing to engage with people who are at the end of their life's journey, to talk with them when they ask about what's next. Those are hard conversations for them and for those who are close to them.
4. To whom do you minister when someone is near life's end?
It can be the patient, if they are still awake. It can also be the family members and staff. There are times when the staff are exhausted and touched by some of the situations that they have to work with, especially when children come in as victims of abuse.
5. What is the Church's role in regard to end-of-life decisions?
Churches need to be willing to provide good information and have discussions about what seeking health care really means from a theological perspective. It's never easy to talk about topics like organ donation or living wills, but it's easier to talk about in your living room or at church than when sitting in an emergency room.
6. What issues do you run into in regard to end-of-life matters?
There is a scientific notion that we should keep life functions going at all costs. But there are realistic limits. We need to get better at recognizing the limits of medicine in end-of-life discussions.
7. What's the most rewarding part of your job?
When I have the opportunity to share God's grace with someone. Some of the confessions I have absolved have been pretty heinous. But when a person breaks down crying because they realize God still loves them, that's why I do what I do.
8. The toughest part?
It is difficult when people come in with the perspective that they can enlist God to do exactly what they want. Miracles are often seen as the next line after the doctor walks in and says there is nothing he can do. We run into problems with this unrealistic expectation of outcomes in health care settings by denominations that look at divine intervention differently than Lutherans.
9. What is your favorite Bible passage?
I love Romans 8. It talks about the world being subjected to futility in hope so that the world will one day be liberated from its bondage to decay, which informs my ministry. When things are going well, people tend to pay less attention to spiritual things. But when things are tough, that's when I usually meet them.
10. What do you like to do in your free time?
Computers and electronics — a flashback to my undergraduate degree — and spending time with my two children. There are a lot of people that would laugh when I say I have free time. For the past four years, I've also been filling in during a vacancy at Immanuel Lutheran Church in Osman, Ill.