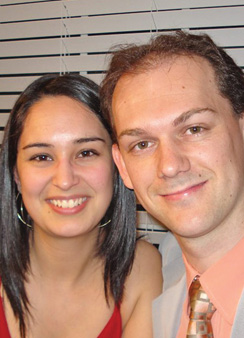 After graduating from our sister seminary in Sao Leopoldo, Brazil, Rev. Tardeli Voss and his wife, Diani, left their home in Brazil for a missionary life in northwest Arkansas. Pastor Voss serves as a regional missionary for the LCMS Mid-South District. He is called to plant churches and serve several Hispanic communities, where he shares Christ's Gospel in three languages — English, Spanish and his native Portuguese.
1. When did you become interested in cross-cultural ministry?
Since I was 9 years old I wanted to go to seminary. My dream was to become a pastor. But mission work came as a passion from my vicarage. On my vicarage I was sent to another country, Uruguay. I had to learn a new language, Spanish, and a new culture for a mission congregation. I came back with a passion for cross-cultural mission.
2. What's the focus of your call?
To plant churches and develop leaders that could help us continue our ministry.
3. What's important about Hispanic ministry in the LCMS?
The United States is made up of 50 percent Hispanics, but our Synod is less than 1 percent Hispanic. The challenge is to reflect in our Synod the national demographic. The LCMS should embrace immigrants as a blessing that brings opportunity, and see the reality that God is bringing the nations to this country.
4. How can the Church bridge the ethnicity gap?
There are a lot of connections between Anglo and Hispanic churches. The majority of Hispanics don't know the Lutheran perspective, but there are people we can reach who are open to a Law and Gospel approach to the Bible. The preaching of the Law and Gospel is a way we bring the Lutheran treasure to life!
5. What's challenging about your mission work?
Working with immigrants is hard because some of these families are weak or more oppressed than others, and being involved in their suffering can be really sad and painful. Sometimes my challenge is to be a voice for them. That does not always make me popular.
6. What's most rewarding about what you do?
When you plant a church and start from zero, you are really battling with the devil for the souls of people who are completely lost. It is a joy to witness the beginning of a life transformed by the power of God.
7. How has God blessed your ministry?
In growth, and in focusing our congregation outward. It is not common to see immigrants serving our communities; they usually receive the benefits of the community . . . but will not give back. Preaching the Law and Gospel is teaching them a Lutheran perspective on missions and showing them why we give back to others. Last year we gave 1,200 hours of community service!
8. What makes the U.S. a special mission field for you?
The church in Brazil was started by missionaries from America, by pastors who were called to plant the church in Brazil. And now the church in Brazil is, in a sense, paying back with missionaries to serve our sister church, the LCMS. There aren't many Hispanic missionaries . . . so it is awesome that the Brazilian church is sharing in that. And I feel blessed to be sent.
9. What is your favorite Bible passage?
First Corinthians 9:22; it talks about being all things to all people.
10. What do you enjoy in your free time?
I love to spend time playing soccer, going out with my wife and playing guitar.
About the Author: Laura J. Seaman is a staff writer for LCMS Communications and a recent graduate of Concordia Theological Seminary, Fort Wayne.