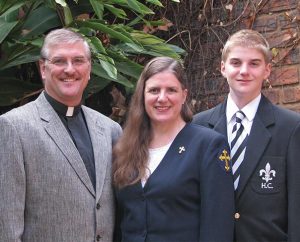 The Rev. Dr. Carl Rockrohr and his wife, Deaconess Deborah Rockrohr, are about to begin new positions in Ethiopia with the LCMS after having spent the last year and a half as career missionaries in South Africa.
1. Carl, your new title will be dean of the school of theology at Mekane Yesus Seminary of the Evangelical Church Mekane Yesus (EECMY). What will you be doing?
I will work at the seminary to help it transition from an accredited seminary at the bachelor level to an accredited seminary at the graduate level.
2. Why is the seminary converting to a graduate school?
Because the church, which has about 6 million members, also has five regional seminaries that need their professors trained to the master and doctorate levels.
3. Why is the LCMS' work in Ethiopia important?
The EECMY is the second-largest Lutheran church in the world and is growing by about 300,000 a year. There is a great need for training pastors and other church leaders … The LCMS has a strong commitment to scriptural doctrine and a historic emphasis in education. So when Lutheran brothers and sisters, active in outreach while also trying to faithfully follow Christ, approached the LCMS to help better train their pastors, theology professors and other church workers, how can the LCMS not help?
4. Deborah, why is it important to learn the culture?
Details of daily culture and language deeply reflect and influence how people think. One is always learning something new and perhaps dismissing old assumptions about a culture. And it happens over a periods of weeks, months and years.
5. Carl, as a child, did you ever imagine you would be a missionary?
In second grade, I had an assignment to write what I wanted to be when I grew up and I wrote, "I want to be a pastor so I can preach the Word of God."
6. Carl, what is the most rewarding part of your job?
Whenever I can assist or help enable the baptizing and teaching as Jesus' Church grows, that is the reward.
7. What is the most challenging aspect of your job, Carl?
In ministry, learning a new culture and language is always a great challenge. In our family life, it is challenging because all our children will be apart from us.
8. What is it like, Deborah, living in Africa?
We see the full range from highly developed infrastructure and conveniences to extremely rural without electricity or running water. However, what has impacted me the most is how strongly Africans value family, community and friendly communication.
9. Carl, is there a language barrier, and if so, how have you overcome it?
Mekane Yesus Seminary operates largely in English. There are about 80 languages in Ethiopia, however. Amharic is the national language, and we will be studying it. I will be doing the language study part time, but Deborah will have a chance to study full time.
10. Deborah, is there a need for more LCMS full-time, career missionaries?
YES! Our congregations in the United States value full-time pastors who stay with their people, learn their culture, minister to family difficulties, pray in times of suffering and joy. Christians in Africa desire to have long-term relationships with missionaries from the United States.
Watch Video