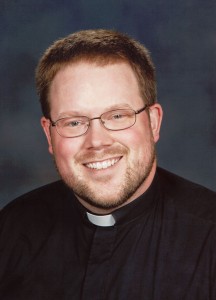 by Melanie Ave
The Rev. Jonathon Bakker is one of many LCMS pastors throughout the country who are bearing witness to Christ on college campuses nationwide and connecting young people to the Lutheran faith. As the pastor at Christ the King Lutheran Chapel at Central Michigan University in Mount Pleasant, Mich., Bakker says, "I love being a campus pastor and couldn't have imagined a better spot for me."
 "Being involved in campus ministry keeps you grounded in your eternal hope in spite of everything else that happens at college."
1. How did you get involved in campus ministry?
It wasn't until call night at the seminary in 2006 that I learned I was going to be a campus pastor. God was in charge through the placement process and He certainly knew what he was doing!
2. Describe your own college experience?
I grew up Lutheran, but hardly took it seriously after confirmation. It was while I was at Concordia University, Ann Arbor, Mich., that I ran into some of the first real personal challenges of my life; my own failings, losing loved ones and the roller-coaster of college relationships. That was when I first realized the critical importance of being connected to Jesus and His church.
3. Describe Lutheran Student Fellowship (LSF) at Central Michigan University (CMU).
The fellowship at CMU is a group of college students who likely wouldn't know each other if not for the fact that they share a common bond in being Christians. The activities that students want to do and get involved in change from year to year, but worship and Bible study, service projects and social activities … is a pretty good summary.
4. Can you describe a typical day?
There is no such thing as a typical day for a pastor and that goes double for campus pastors! It's always a mixed bag because college students are a unique breed of high energy/low sleep individuals who are impossible to predict. The services, Bible studies, and many social activities follow a fairly routine schedule, but students are also spontaneous when it comes to wanting to get together with friends and often they'll invite their pastor.
5. Why should college students get involved in campus ministry?
The challenges to Christian faith that most college students will encounter, especially on public university campuses, are well known. Being involved in campus ministry keeps you grounded in your eternal hope in spite of everything else that happens at college.
6. What advice do you have for incoming freshman and/or their parents?
Freshmen, first of all, go to church! And then please wait five or six weeks before committing yourself to join any clubs, teams or student organizations. Parents, do what you can to connect your child to the local LCMS campus ministry. Visit the pastor while you're on campus for orientation. Go visit your child for a weekend and make a plan to go to church together.
7. Why should the larger church care about campus ministry?
We should care about campus ministry not only because of the challenges our own Lutheran youth face when they head off to university. We also should care about it because campuses, especially public universities, are full of people who don't share our faith and who are hungry for true meaning in their lives.
8. How can congregations and members support campus ministry?
Tell us about your students! Seriously. Unless LCMS congregations and/or LCMS parents tell campus pastors, deaconesses and volunteers that their youth are going to be attending such-and-such university, we have no way of finding out about them and inviting them to get involved. Also, pray for those in the college communities. Finally, consider financially supporting the work of campus ministries that serve the members of your congregation or your family.
9. Can you describe an "ah-ha" moment when you realized that you were exactly where God had planted you?
It is difficult to pick just one, because many jump to mind, but I would have to say that it is during the Baptisms and confirmations of the students and internationals who the Lord has led to confess the Christian faith through our campus ministry.
10. What do you think of the LCMS' renewed emphasis on campus ministry?
The "Unwrapped" campus ministry conference in January was such a shot in the arm for our college students. The locator services [for campus ministries: www.lcms.org/lcmsu] that are so prominent on the Synod website now are a Godsend. I'm really looking forward to what else they have in store for campus ministries that is yet to be 'unwrapped' in the future, and pray that these efforts, with the Lord's blessing, bear fruit in strengthening young people in the Christian faith!