by Melanie Ave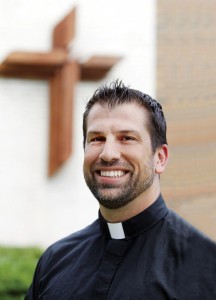 The Rev. Ross Johnson was recently named the director of LCMS Disaster Response. In September, he began nine months of training under the current director, the Rev. Glenn Merritt, who will retire at the end of June 2014. Prior to joining the staff at the LCMS International Center in St. Louis, Johnson served as pastor of Redeemer Lutheran Church in Fairhope, Ala.; as a chaplain in the U.S. Army Reserves in Afghanistan and Kuwait; and as an LCMS missionary in Venezuela.
1. You did not grow up Lutheran, but discovered Lutheranism as a young adult after being raised Catholic and then attending evangelical churches. What struck you?
I began to realize that there was a church out there that had a doctrine that clearly articulated what I believed. The more I read, the more I found that Lutheranism put my theological puzzle pieces together. I feel like I found Christianity's best-kept secret in Lutheranism.
2. Describe what it has been like being a pastor in Alabama after growing up in California.
It's been an amazing experience, the highlight of my life. When you open up your life to the Lord you have no idea where He's going to take you. But when the Lord is guiding you, it's going to be blessed.
3. What is one of your favorite parts of being a pastor?
Seeing people grow spiritually. Those "Aha!" moments are very rewarding, especially when we confirm people from other traditions who come to us in spiritual desperation. It is very satisfying to watch our congregation growing in the Bible Belt while it remains faithful to the Lutheran liturgy and Confessions.
4. How will you begin to learn and train for the new job?
I'm blessed to have the Rev. Glenn Merritt to work with. I get to learn from the best, someone who has years and years of experience, before he retires in nine months. He's going to be mentoring me so, it'll be a smooth handoff.
5. How do you think the new job will be different or the same as serving a congregation?
I won't have an altar where I'm doing Word and Sacrament ministry to a defined group of people. When I approach people who have been devastated by disaster, I will first approach them as a pastor reminding them who they are in Christ and how the Lord will get them through. I will be able to comfort people with the Word of Christ.
6. Could you describe what it was like to be part of a team from Concordia Theological Seminary, Fort Wayne, Ind., that traveled to Slidell, La., following Hurricane Katrina?
When disaster touches down, it touches down on an entire community. Everybody needs assistance and aid. When the church goes in after a disaster, they bless the community equally as well. It's a great opportunity.
7. What do you say to people who ask: Why does God allow disasters and suffering?
We'll never understand why God allowed something to happen. We do know that we live in a fallen world. When disasters happen, it's a sign that we are no longer living in a world that is a paradise. But we do know that something Satan meant for evil can be turned into something that will bless that community. The rest of the world may say, "Oh, that place is devastated." Although it may be devastated, the Lord will eventually use it for good.
8. What makes you tick?
I love working with people. I love being able to help others.
9. What's one word that friends or family use to describe you?
Driven.
10. How does your Lutheran faith inform your day-to-day life?
It gives me hope that even though we live in a sinful, broken world … when we die in the Christian faith, the one true faith, we have the hope of spending eternity in heaven where there is no longer any pain, suffering, disasters or anything else.