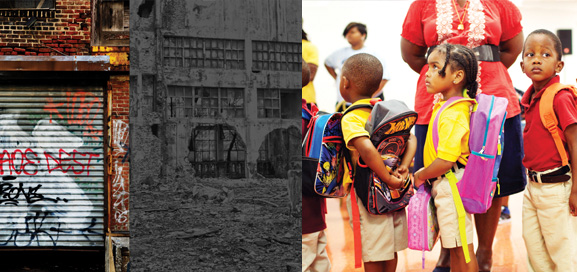 By Katie Schuermann
It's something of a miracle. Right in the heart of East St. Louis's urban blight – amidst crumbling buildings, plots of land overcome with vegetation and clusters of adults standing dangerously idle on curbsides – Unity Lutheran Christian Elementary School (unityesl.org) boldly stands as a perfect example of our Synod's mission, "Witness, Mercy, Life Together."
Witness
"Let the little children come to me," Jesus bids His disciples in Luke 18, and Unity does just that. With 11 teachers, three aides, two administrators, one administrative assistant and one custodian, Unity is equipped to reach some 190 full-time students in grades Pre-K3 through 8 with the saving Gospel of Jesus Christ.
"At Unity," says Development Director Paul Miller, "everything begins and ends with Jesus."
Jashira Bolden, a 14-year-old, recent graduate of Unity, agrees. "The best part of school is 'Belong to Jesus Time.' It's at the beginning of each day, and the whole school gets to come together. We [learn] a Bible story each week along with a Scripture [verse]."
"There's so much value in reciting God's Word together as a group," affirms Miller. During "Belong to Jesus Time," students also sing songs, give a monetary offering (amounting to $3,000 annually) in support of other missions and participate in a "little liturgy" led by Unity's principal, Rev. Aaron Dickerson.
Mercy
Most of Unity's students live within a mile of the school, specifically the northern part of East St. Louis, Ill., in Washington Park. Every student pays tuition, and every student receives financial aid.
"Tuition is on a sliding scale based on income," says Dickerson. "Most of our parents are at poverty level, but they really want their kids to get a quality, Christian education. There's not a student here that pays the full tuition. Families just can't afford it. A lot of them are working two jobs just to make ends meet, especially the single parents."
Dickerson explains that between 85 and 90 percent of Unity's students come from single-parent homes.
"A large number of our students do not have a male role model," says Dickerson. "We try to show them as much love as possible, to let them know that they're special, that they're created in God's image, that they can be anything they want to be."
Kielynn Palmer, a vivacious second-grader living in what Miller calls "a culture of low expectations," is one of the many Unity students who benefits from this message.
"I want to be a cheerleader and a doctor and a nurse," Kielynn says, "with a cross on my shirt, so that everyone'll know I'm a Christian."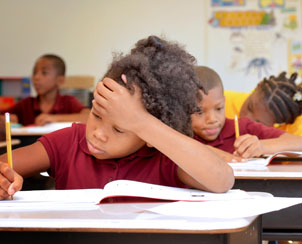 The tuition breaks given to each student make Miller's job a busy one. The Southern Illinois District (SID) Mission Board generously grants $50,000 annually to Unity, but an additional $650,000 must be raised each year through fundraising efforts and private donations.
"Our Lutheran doctrine, 'by grace you have been saved,' has helped me to look at everyone and try to make it happen for them, even if they don't appear to deserve it," says Miller, explaining his tireless fundraising efforts. "That's how God looks at me."
Still, even Miller has a limit. "I am retiring in 4 years. One of the goals we have is to build a $10 million endowment within the next four years to ease some of that dependence on private donors. Right now, we are at $140,000, so we've got a lot of work to do."
Unity also benefits from more than just the monetary support of donors. From offering group keyboard lessons to cultivating a school garden to building an altar and pulpit for "Belong to Jesus" time, various volunteers give of their time and talents to help keep the school and its programs running smoothly.
Being on the receiving end of so much generosity, Unity's staff and teachers are careful to teach the students how to take care of others with no expectation of receiving anything in return.
"Unity has taught me that not everyone is able to provide for themselves," says Jashira. "I own an organization called 'One Step at a Time' that I started when I was 8 years old, and, last year, I got to give each homeless shelter $1,000."
Students at Unity also understand that simply helping the younger kids at school can be an act of mercy.
"The little kids at our school, they look up to us," explains Keondra Morgan, a seventh-grader at Unity. "We've got to show them the way to behave when they go to school. How we behave affects their behavior."
Life Together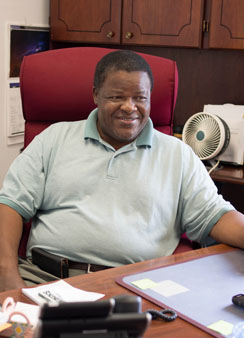 Nineteen years ago, the SID in convention acknowledged the need to do mission work in East St. Louis. Three years later, the district convention decided to plant a Lutheran school, what First Vice-President Herb Mueller (then president of the SID) calls "one of the strengths of our Synod," in East St. Louis to reach some 30,000 people with the Gospel. The following convention assigned a task force to construct a business plan, perform a feasibility study, survey the community and locate a proper building for such a school. Three years later, Miller was called as Unity's first principal.
"Schools such as Unity are a focus of hope in a community," says Rev. Timothy Scharr, current president of the SID. "The school provides a safe environment for the students to focus on learning. The daily 'Belong to Jesus Time' brings Christ to every student five days a week … We pray that the school and church will be a catalyst for positive change within the community."
Thirteen-year-old Nile Clay, an eighth-grader at Unity, embodies such change. He is considering being baptized this year. In fact, just down the street from the school, Unity Lutheran Church (ULC) is currently averaging one school-related baptism a month. Still, of the 183 Unity students enrolled in 2012, nearly 130 of them did not have a church home and did not go to church regularly. The harvest is ripe, but the laborers are few.
When asked what advice he would give to other districts wanting to plant mission schools such as Unity, Mueller suggests "pray a lot" and "spend the time to develop wide support for it."
"Trust the Lord," adds Scharr. "He can do far more than we think or imagine possible by the power at work within us in the Church through Jesus Christ … Be prepared to be in this for the long haul. We've been working at this for over a decade with no end in sight."
"This whole project, from a human point of view, does not make sense," Miller confesses. "It has to be that God wanted it to happen and made it happen."
Yes, He did.
Learn More
View photo gallery
Katie Schuermann (katie@katieschuermann.com) is author of He Remembers the Barren (LL 2011), Pew Sisters (CPH 2013) and is a member of Good Shepherd Lutheran Church in Sherman, Ill.