by Laura J. Seaman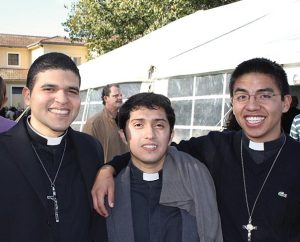 It is a huge responsibility to have the only Lutheran Spanish-speaking confessional seminary in the world," said the Rev. Carlos Nagel, president of the Evangelical Lutheran Church of Argentina (IELA). "The IELA is also the largest Spanish-speaking Lutheran church body in the world, so we have a special calling."
"[We] visit our partner churches like a pastor visits the sheep of his flock."
–Rev. Dr. Albert B. Collver III
Once a mission outpost, the LCMS first sent missionaries to Argentina in 1905. Today, the IELA is one of 35 partner churches that are in altar and pulpit fellowship with the LCMS, providing a strong arm and anchor for LCMS mission efforts throughout Latin America.
For many of our partner churches, the story is similar — what began long ago as LCMS missionary work in a region resulted in the planting of churches that grew into a church body that is now a valued and respected LCMS partner. At this summer's 65th Regular Convention of The Lutheran Church—Missouri Synod, we will welcome these new partner churches: the Siberian Evangelical Lutheran Church (SELC), the Evangelical Lutheran Church of Liberia (ELCL) and the Lutheran Church of Togo (ELT).
This network of international Lutheran churches reaches across five continents enabling joint witness and mercy efforts around the world. As we work together, guide and support one another, the Gospel permeates even the most remote places on earth, providing the timely opportunity for outreach on a global scale like never before. The LCMS Church Relations office works to foster this collaboration among our partner churches through various means.
"One of the goals of LCMS Church Relations is for us to visit our partner churches like a pastor visits the sheep of his flock," said the Rev. Dr. Albert B. Collver III, director of LCMS Church Relations and executive secretary for the International Lutheran Council (ILC). "While we visit, we listen to their needs."
LCMS Church Relations efforts are aimed at building and nurturing the relationship between the LCMS and her partner churches around the world. This includes providing resources and theological education for pastors and servants of the church, helping to provide funding for special projects, sending missionaries into the global mission field, and striving to establish effective communication with other Lutheran church bodies.
"We are a partner church of the LCMS," Nagel said. "We continue walking hand-in-hand and deeply appreciate all of the investments of time, support and people that the LCMS has given us."
[do action="invest" tier1="Office of the President" tier2="LCMS Church Relations" tier3="–enter value" budget="533,936″ email="mission.advancement@lcms.org" givenow="http://www.lcms.org/givenow/globalmission"/]