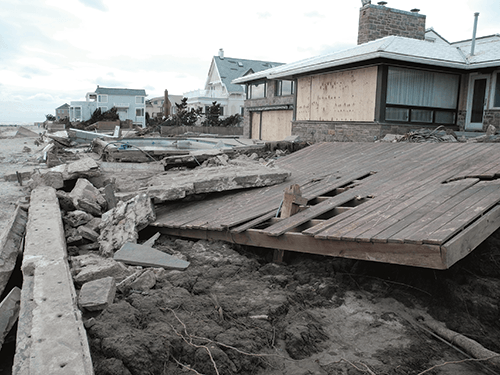 by Rev. Glenn F. Merritt
Dear brothers and sisters in Christ,
By God's grace the hungry and thirsty are given food and drink, the naked are clothed, the homeless given shelter and hurting souls are given hope because of you.
In the aftermath of Superstorm Sandy, people all across our Synod are joining hands to touch hurting lives with Christ's compassionate care. Urgent pleas for material, financial and spiritual resources are being met across the stricken Northeast.
Within hours of the storm, teams from the LCMS national office, districts and local congregations spread out to assess damages. It was a rapid response made possible by many generous gifts flowing in from individuals, congregations and groups all over our Synod.
Beyond responding to people's physical needs, the national team, together with district staff, addressed spiritual and emotional trauma by making pastoral-care visits in homes and along streets.
Many who were severely affected by Sandy told us that w e were the first from anywhere to check on them, pray with them and listen to their stories of the storm's severity and its effects. One man who received aid from Lutheran volunteers who cleaned up his house, later told LCMS President Matthew Harrison, "You Lutherans are the real deal."
And the recovery work is just beginning. Because of your generosity, we are positioned to sustain our mercy work long after other relief groups have moved on. What I call our "Lutheran Accompaniment" will continue in the weeks, months and years to come in response to this "once-in-a-lifetime" disaster.
As I write this letter, news of the destruction and loss of life in the Philippines following Typhoon Bopha is flooding my office, and we are in contact with our partner church and mission leaders in that country to determine the level of our disaster response. God grant that we, the people of The Lutheran Church—Missouri Synod, will boldly share the Gospel of Jesus Christ and show His mercy whenever and wherever disaster strikes.
— Rev. Glenn F. Merritt
Director of LCMS Disaster Response