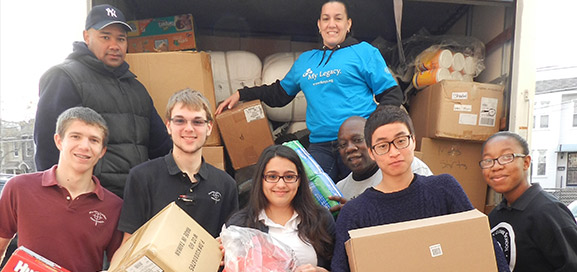 by Laura J. Seaman
Good Shepherd Lutheran Church in Laurelton, N.Y., recently celebrated the Baptism of an entire family affected by Superstorm Sandy. The family was looking for spiritual care and a church home in the wake of the disaster, and God placed the LCMS disaster response team in their lives.
"Even if we only affected one family like this for eternal purposes," said Tom Cusanelli, Sandy recovery coordinator for the LCMS Atlantic District, "then we have done what the Lord wanted us to do."
LCMS Disaster Response is a ministry of presence, a presence rich with God's mercy and Word of life. It serves the thousands of individuals and families all over the world who are suffering from loss in the wake of disasters like hurricanes, floods, earthquakes, fires and tornadoes. But it also provides an opportunity for the church to be visibly active in reaching out in mercy to serve the hurting and homeless with physical and spiritual care.
"In times of tragedy," said the Rev. Glenn Merritt, director of LCMS Disaster Response, "there is nothing more important than spiritual care."
Disaster preparedness is a priority of Disaster Response, which offers two major training programs. Mercy in Action is a program designed to help train congregations to respond when tragedy strikes while Lutheran Early Response Team (LERT) training equips individual volunteers. To date, LERT has trained more than 12,500 Lutheran volunteers in disaster relief and response.
"LCMS Disaster Response Ministry is a ministry of presence, a presence rich with God's mercy and Word of life."
Recovering from any natural disaster is an ongoing task. Money and people resources go a long way for recovery efforts even years after a tragedy occurs, like in Minot, N.D., after the floods hit in 2011.
"Providing mercy care," said the Rev. Paul Krueger of Our Savior Lutheran Church in Minot, "opens up the door to Gospel proclamation." Krueger said without LCMS volunteers and donors, there would be no flood relief efforts in Minot.
"Donor dollars allow us to respond as quickly as we do," said Merritt. "But there is no sense in going if we don't have people to help."
Through LCMS Disaster Response, the church is able to provide Gospel-centered care for both body and soul in times of tragedy.
"It is an opportunity to spread the Gospel," said Cusanelli, "an opportunity to wash feet."
[do action="invest" tier1="Mercy Operations" tier2="Disaster Response" tier3="–enter value" budget="1,897,651″ email="mission.advancement@lcms.org" givenow="http://www.lcms.org/givenow/globalmission"/]