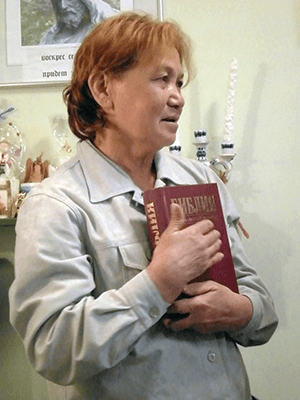 by Megan K. Mertz
When 54-year-old Buston came to Hope Family Counseling Center in St. Petersburg seeking financial assistance, she found more mercy than she ever expected.
Even though she was an immigrant from Uzbekistan with no job and poor Russian language skills, Hope welcomed her with open arms. Staff provided her with Russian language education, enrolled her in computer classes and assisted her in raising her 5-year-old nephew, Yodgar. At Hope, Buston also had the chance to read the Bible and interact with other Christian women — things she couldn't do because of religious oppression in her native land.
"We try not to refuse to provide help," said Hope Director Olga Ryumina, as she explained that Hope recently expanded its services to include immigrants. Hope's ministry is informed by the apostle Paul's words from Phil. 2:4: "Let each of you look not only to his own interests, but also to the interests of others."
Each month, Hope Center receives more than 130 visits from men and women like Buston who are experiencing a variety of difficult situations. Some seek Lutheran counseling for marital problems, unplanned pregnancies or spiritual issues. Others attend Hope's computer classes to gain necessary job skills. Hope also supports pregnant and single mothers in particularly dire straits who need help navigating the complicated Russian socialized medicine system for prenatal care. Hope provides these mothers with clothing, food and needed medicine for their children.
"Because of crowded living conditions, poverty and cultural norms left over from the Soviet days, the average Russian woman has between six and eight abortions during her lifetime," said Maggie Karner, director of LCMS Life and Health Ministries. "That's why we have to give real alternatives like job training and prenatal care."
The LCMS began supporting Hope Family Counseling Center seven years ago. The center opened in 1993 and works in conjunction with the Evangelical Lutheran Church of Ingria, one of the LCMS's two Russian partner churches.