By Jeni Miller
It's never too soon to start serving your neighbor. Just ask the 25,000 youth that attended the 12th triennial National LCMS Youth Gathering (NYG) July 1–5.
"The servant projects at the NYG are wildly successful — as are the LCMS youth servant events that happen every summer — and there are not enough projects for all of the kids," explained the Rev. Bart Day, executive director for the LCMS Office of National Mission. "At the NYG, youth participated in hundreds of projects over those days. They want to serve and work and help in ways that relate primarily to showing mercy to those in need."
Our Lutheran youth at the NYG volunteered for hundreds of on-site and off-site service projects benefitting local churches; schools; parks; health-care facilities; and other service organizations that provide child and family care and counseling, housing, and meals for those in need. A team of LCMS volunteers spent more than two years cultivating relationships with LCMS congregations, community groups, schools and other San Antonio-based service organizations to arrange the projects.
One youth, Amy Wilkie from Cedar Rapids, Iowa, who helped clean up and rearrange an outdoor preschool play area, mentioned, "My favorite thing about participating in the NYG was helping people in a different community and having the chance to reach out. This experience confirms that I do want to help others in my own community and pretty much everywhere."
"NYG Servant Events provide a short-term opportunity for young people to serve their neighbor in a new setting, stretch their understanding of the talents and interests God has given them, and be encouraged in service by other LCMS Christians," said the Rev. Mark Kiessling, Gathering program director for the LCMS. "These experiences … are opportunities for young people to be encouraged in future service to the Church and world. Also, in a short amount of elapsed time, NYG participants are given a snapshot of the difference the Church can make in a community."
And these opportunities don't stop when the NYG ends.
The LCMS provides and facilitates numerous service project options for youth all year long, especially in the summer months, and youth can serve for a weekend or a week. Sometimes building off of the tasks and contacts established at the NYG, these projects range from construction to human care to outreach events.
According to Kiessling, "The LCMS has a long history of servant events through LCMS Youth Ministry. Thousands of LCMS members serve at these events every year. It would not be surprising for those who served in San Antonio to connect with their 2013 hosts and serve in the future."
Lutheran Youth Corps
Some youth who participate in these events year after year want to take their service to the next level. What can we, as a church, do to accommodate these young adults and their desire to serve Christ and neighbor?
"It's time to do again what we did originally years ago," said Day. "The LCMS used to be part of the Prince of Peace Corps, the precursor to our GEO (Globally Engaged in Outreach) missionaries, which sent youth overseas for peace and mercy work. Our youth, college kids and young adults have a high desire to serve domestically and internationally as workers of mercy. There is an ever-growing number of LCMS college students and young adults joining the Peace Corps and AmeriCorps. They say, 'We would do it with the church, but there is nothing for us to do.' "
Until now.
The Lutheran Youth Corps, our church's answer to the growing trend of youth interested in entering long-term service organizations, is scheduled to launch its pilot program in the coming months. With an emphasis on works of mercy and a desire to engage the tail end of the "youth" spectrum in the LCMS, the Lutheran Youth Corps will focus on providing service opportunities for an 18-month period of time in between high school and college or college and full-time work, especially for young people who have not yet settled on a vocation. They will likely be matched with a project or servant event that is related to their particular interests and skill sets.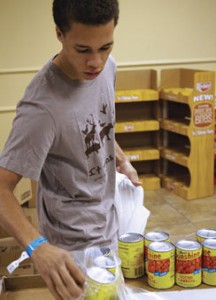 "The plan is to create long-term servant events for young people in our Synod, for youth to live in community with other volunteers and do mercy projects in that part of the country or world," explained the Rev. Steven Cholak, special ministries coordinator for the LCMS Office of National Mission. "We want to show what we can do with a Lutheran emphasis to help teach, strengthen and maintain the faith as we do the work of spreading the Gospel."
As the program is further developed, it includes sending seven to 10 youth to live in a house together with a professional church worker who will serve as the spiritual life director during their stay. The director will lead them in daily devotions, connect them with a church nearby for Word and Sacrament, and maintain order for the house while caring for their physical and spiritual needs. Opportunities for offering educational credit or other incentives for volunteers also are being explored.
Young adults will have domestic service opportunities, such as urban and inner-city work, as well as international project choices with partner churches and organizations like Bethesda that are operating facilities internationally.
"We have projects in Kenya, Madagascar, refugee camps … the list goes on," added Day. "We really want to see kids who participate in our youth events while in junior high, high school and college go on to the Lutheran Youth Corps. In other words, we'd like to see a continuity of service before sending a 23- or 24-year-old to Nairobi for a year. There is just a huge need and desire — and if we don't do anything for college-age and young adults, they'll go elsewhere to do it."
Uniquely Lutheran
But what really sets the Lutheran Youth Corps apart from the other long-term service organizations? A uniquely Lutheran theology and a deep focus on the vocational life in the midst of rigorous service.
"Built into this program will be a week or two of immersion in significant theological training for the youth before being sent out," said Day. "We'll talk them through Scripture and the Confessions and vocation and service to neighbor in a Gospel way, to prepare them to go out joyfully and freed by the Gospel to do the work our Lord would give them to do. The mercy work itself is not the Gospel, nor is the work compelled by the Law or salvific. We want to make sure our kids understand what mercy is, where it begins and ends, and how mercy is tied with opportunities to share the Gospel and witness to Christ. We also want to give them a strong congregational life and community wherever they serve to help them in their work and as they process its meaning and their experience."
As the Lutheran Youth Corps gets up and running, the Office of National Mission is on the lookout for substantial support for these young people who want to serve. Through identification of young adults who may be candidates for this service, and through prayer and financial support, LCMS members can help jumpstart the Lutheran Youth Corps to help our youth show mercy and share the Gospel with their neighbors around the world, in season and out.
Love Lived: NYG Service Projects by the Numbers
1 week
25,000 youth from 49 states and 14 countries
5,000 youth engaged in off-site servant events
20,000 hours of service
100-plus projects
323,000 meals prepared
1,500 personal-care kits assembled
250 fleece blankets constructed
1,140 school-supply kits gathered
1,006 units of blood donated
500 thank-you cards for the military
64 haircuts for Locks of Love
300-plus off-site servant opportunities
3,000-plus runners in the 5K, raising $30,600 for the Lutheran Malaria Initiative
Youth + Service Projects =
Christian witness, acts of mercy and service to the Church and world
Opportunities to make new friends and grow closer to other Christian friends
Bible studies, group building and connection with other LCMS youth
$100,000 NYG Special Offering Funds =
Service projects
Global youth outreach projects
Lutheran Malaria Initiative
Ongoing rebuilding in New Orleans
To learn more about LCMS Servant Events, visit servantevents.lcms.org.