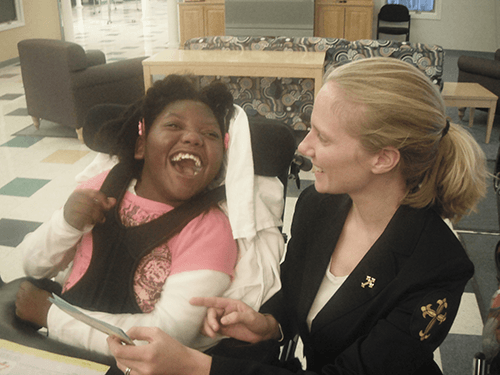 by Laura J. Seaman
The word "shut-ins" usually calls to mind those who are sick or elderly, but it also includes people who have no access to a church because of limitations due to developmental disabilities. Filling this great need, the staff and volunteers of Voice of Care daily reach these people and their caregivers with mercy and spiritual care.
The staff and volunteers at Voice of Care serve approximately 900 children and adults with developmental disabilities in the northern Illinois area. Weekly visits to more than 17 secular institutions help to provide mercy and spiritual care for residents with disabilities, as well as giving a respite to those who care for them daily.
For the past three years, Voice of Care has received grants from the LCMS, totaling $32,500, to help defray the costs of general operations and health insurance for staff members, which in turn allows other money and donations to go toward ministry expenses. The chief expenses are related to the large travel costs incurred by the staff. Deaconess Jana Peters, one of the chaplains for Voice of Care, says that driving is a huge part of this ministry, and grant money goes a long way in removing the obstacle of travel expenses so that she can focus on the important task of spreading the Gospel.
"Most of the people we see regularly," says Peters, "have no other opportunity to hear God's Word because they cannot go to church on Sundays. It is awesome to walk in to the home and be welcomed by 'Church is here!' 'Church is here!' "
Voice of Care actively reaches an otherwise isolated community with the Gospel message, and will celebrate 10 years of ministry in the summer of 2013. Mercy Grants from the LCMS help the efforts to blossom in changing the lives of people with development disabilities.
Laura J. Seaman is a graduate of Concordia Theological Seminary, Fort Wayne.