by Megan K. Mertz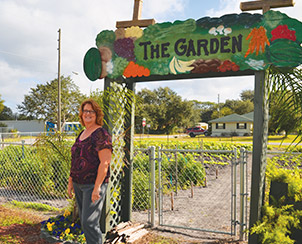 The Lutheran Church of the Redeemer in Sanford, Fla., has fewer than 150 members, yet it is taking on big projects in this community just outside Orlando. Tiny seeds planted and watered by God grow into major ministries, like the community garden the church started to feed the hungry. Last spring, this garden produced more than 4,000 tomatoes and other vegetables.
But the idea of the community garden isn't the only seed God has planted at Redeemer. Years ago, the idea of starting a maternity home was set in the minds of Rev. Ed and Sheryl DeWitt — an impossible task at the time.
The Seed Is Watered
"But then, God gave us a big shove," said Pastor DeWitt, who came face to face with this pressing need in their community when his unmarried daughter, Katie, learned that she was pregnant.
"I was absolutely terrified," recalled Katie. "It was the fear of judgment that was most overwhelming. It was the first time in my life that I was glad that my grandma was dead. I was glad I didn't have to face her."
"When you are pregnant and single, you wear your sin right out in front of you for all to see. It's not like that for the man. He has committed the same sin, but it's not so obvious," Katie continued.
Despite the difficulties that this situation presented, Katie says abortion was never an option. Instead, she asked her church family for their support, and they gave it in abundance.
The Seed Sprouts and Grows
After Katie's son, Warner, was born, the DeWitts got serious about the idea of starting a maternity home. They felt called to support women who wanted to choose life for their babies, but who felt trapped by difficult circumstances.
"When all we do is tell people what we are against, they never learn what we are about. It's not about what we are against; it's about what's been done for us on the cross," said Katie, as she held her 2-year-old son.
But opening a maternity home still seemed like a monumental task for the small congregation — until the DeWitts discovered support from throughout the Synod. Pastor DeWitt met Maggie Karner, director of LCMS Life and Health Ministries, at a Florida–Georgia District convention. Over the next three years, she helped DeWitt find mentors who could help put the maternity home on the path to sustainable success, connecting him with Lutheran Housing Support and those who provide nonprofit business start-up and implementation advice.
"This is a hard thing to pull off in the United States because of the many legal issues that must be considered for operation," said Karner. "We want to provide this — and other mercy projects — with mentors and resources from the nonprofit business world in order to build sustainable programs for the long-haul. The end goal of this maternity home is a model for Christian mercy done in Christ's name, done at the local level . . . and done with excellence."
The Plant Blooms
The Lutheran Church of the Redeemer is on track to open the doors of Redeeming Life Maternity Home on Mother's Day, Sunday, May 12, 2013. The congregation is working to purchase a duplex across the street from the church, where they will be able to provide housing to seven or eight women at a time along with life and job skills.
"What we're trying to do is cultivate independent and hope-filled women who are raising independent and hope-filled children," said Pastor DeWitt. "We want to ease suffering now, but we also want to redeem them through faith in Jesus Christ for this life and eternity."
As the program expands, Redeemer envisions providing transitional housing for these women after their babies are born and they move out of the duplex. The low-rent apartments will allow the new mothers to get back on their feet before becoming completely independent. A 24-hour child-care program is also part of the master plan.
Together as Synod
"This project serves as a fine example of what it means to 'walk together' as a Synod," said Karner. "By working together across congregations, districts and the Synod, we can leverage the incredible experience we have and maximize our ability to really get things done."
Thanks to the support, funds and guidance of community mentors, nearby LCMS congregation St. Luke's in Oviedo, the Florida-Georgia District and The Lutheran Church—Missouri Synod, the Redeeming Life Maternity Home is about to become a reality.
National abortion & maternity home statistics
According to the Center for Disease Control, there were 784,507 reported abortions in the U.S. in 2009.
There are some 300 maternity homes in the U.S., only two of which are specifically Lutheran.