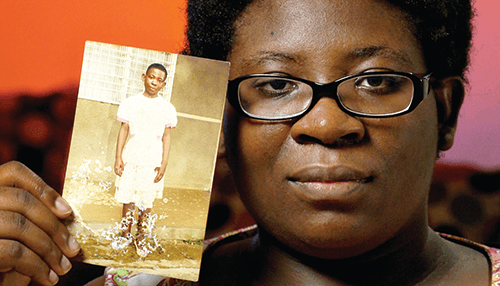 by Jeni Miller
Evelyn Chumbow was 9 years old when her uncle in the African nation of Cameroon sold and trafficked her into the U.S. to serve as a modernday slave, cooking, cleaning and taking care of her "purchaser's" children. Promised an education and an opportunity to achieve the American dream, she was instead beaten, disparaged and held captive to work long hours without pay for seven years.
By the grace of God, Evelyn escaped, sought help at a local church and found refuge through the merciful services provided by Lutheran Immigration and Refugee Service (LIRS).
"LIRS working with Lutheran Social Services found a place for me to stay," explained Evelyn. "They asked me what I wanted, sent me to school and took care of my medical needs. The foster care program was great; I actually miss it! I wish I had that family earlier. Because of the social workers and program, I was encouraged to become a social worker. I was able to forgive my mother and uncle, and the trafficker, for what happened to me."
As Lutherans who have received God's work of mercy on the cross, we do the good work of upholding the sanctity of life at all stages, from conception to natural death.
A tangible example of this "good work" can be found in the ongoing support that The Lutheran Church—Missouri Synod provides to LIRS, an agency focused on care for refugees and immigrants that too often includes a life "inbetween" robbing victims of their basic, God-given human dignity.
The U.S. Department of Justice defines human trafficking as "the act of compelling or coercing a person's labor, services, or commercial sex acts. The coercion can be subtle or overt, physical or psychological, but it must be used to coerce a victim into performing labor, services, or commercial sex acts."
Recent statistics tell the tragic story of its rise in urban centers, suburbs and in rural and small towns across America.
Ironically, human trafficking was a problem that likely did not cross the minds of the Lutherans who founded LIRS in 1939 to resettle Lutherans and other people displaced by World War II. Today, in partnership with the federal government, LIRS continues to resettle refugees, reunite families and help migrants seeking safety in the U.S.
A large part of LIRS's work is with refugee children who are orphaned or separated from parents and migrant children who find themselves alone in our country. Many of these are victims of trafficking.
By working with local partners around the country, in many cases Lutheran Social Services and other LCMS Recognized Service Organizations, LIRS is the tool through which God's mercy is shown to "the least of these" on behalf of the Church.
In 2010, the Synod in convention voted to prayerfully support governmental efforts to end human trafficking and the slave trade. That support is further expressed through our ongoing funding, resources, advocacy, partnerships and education. Additionally, the LCMS Office of National Mission holds a presence on the Board of Directors for LIRS.
"Many in the U.S., including those in the LCMS, are oblivious to the devastating reality of human trafficking happening even within our borders," said Rev. Bart Day, executive director of the LCMS Office of National Mission. "LIRS has been a strong partner with the LCMS for many years on such issues, bringing experience and expertise to support us in this work. We are developing a human trafficking campaign with LIRS to raise awareness and let our LCMS members know how they can help bring an end to human trafficking."
Mercy in close proximity to Lutheran altars and pulpits is one of the six mission priorities guiding our work in the LCMS. This happens when trafficking victims are placed into Lutheran foster families and when congregations provide mercy for refugees by welcoming them into the family of God, where they can receive the Word and Sacraments.
Lutherans are putting an end to human trafficking. Through congregational and individual support of our Synod's efforts through the Office of National Mission, the LCMS is helping stop the exploitation and sale of children and adults. You can join this effort at various levels by:
Praying for trafficking victims and for LIRS
Financially supporting the LCMS Global Mission Fund
Volunteering to open your home to foster children
Educating yourself so that you can identify victims of human trafficking
Contacting your legislature to urge their support in protecting trafficking victims
As Lutherans, we look to our Lord, who showed mercy through His actions, and we point victims to His cross and empty tomb, where lives and dignity are ultimately restored. Through human care efforts that focus on supporting a person in body, mind and spirit, Christ's love is made manifest and people are brought into His Body to be cared for, for all of eternity.
Watch the Video "End Human Trafficking Now" at http://vimeo.com/51752958.
Jeni Miller is a deaconess, freelance writer and pastor's wife.