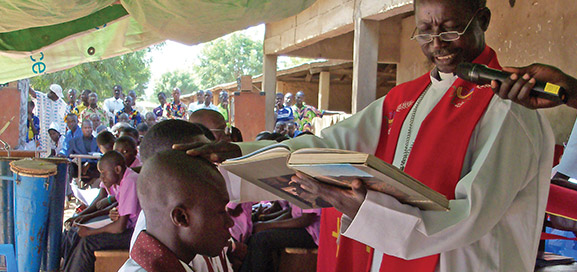 by Laura J. Seaman
Church planting and evangelism was at the heart of early LCMS mission work in Africa, which began in Nigeria in 1936. Individual missionaries traveled great distances, crossing cultural barriers to spread the Gospel throughout sub-Saharan Africa.
Gospel seeds planted for nearly a century by both European and American Lutheran church bodies and mission societies, have blossomed into a rich church culture with more than 20 million souls hungry to learn about their identities in light of God's Word and the Lutheran Confessions.
Since the 1960s, Africa has been a hot bed of political strife. The resulting poverty, corruption and disease have, in many cases, caused the indigenous people to flee their homes and tribal regions in search of peace, security and a means to make a living. When it is safe to return home, many do.
"Refugees who fled their countries during conflict," said Dr. Mike Rodewald, regional director of Africa, "came into contact with Lutherans elsewhere, then they return with the Gospel and plant new churches." Because of this, African-initiated Lutheran churches are emerging in many locations, creating the opportunity for partnerships in theological education that will strengthen the biblical and confessional foundation of the pastors who serve these churches. "Many of these now independent African Lutheran churches have little idea what it means to be Lutheran," said the Rev. Tim Heiney, who has served as a missionary in West Africa for 25 years. "They are anxious to learn the real basis of the Lutheran faith." Despite the significant growth of Lutheranism in the past 80 years, Islam is one of the greatest challenges to mission efforts in Africa today. Active efforts to convert people to Islam are fueled by petrodollars (money received by companies for exporting petroleum), enabling the construction of Muslim mosques in many places, said Rodewald.
The growing presence of Islam in the region amplifies the need for more LCMS pastors, deaconesses and church workers to serve in Africa.
LCMS donor money to Africa helps sustain planted churches and makes it possible for them to accomplish more than they could on their own.
"The people of the LCMS are tremendously generous in their giving for mission," said Rodewald. "Our task is to use the funding both humbly and appropriately so that others might see us pointing to Christ through the use of the gifts God has given us."
LCMS work in Africa
24 countries
5 partner churches, 2 pending
20 LCMS missionaries
6 seminaries/theological education centers
[do action="invest" tier1="Office of International Mission" tier2="Africa" tier3="–enter value" budget="2,253,11″ email="mission.advancement@lcms.org" givenow="http://www.lcms.org/givenow/globalmission"/]