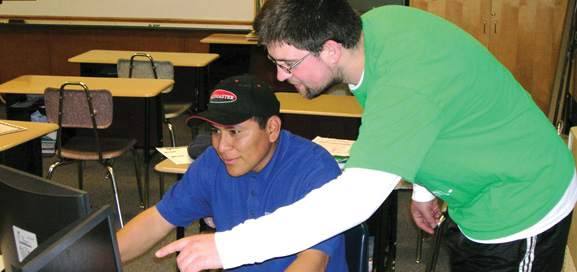 by Megan K. Mertz
When Trinity Lutheran Church, Portland, Ore., moved to its present location in 1959, it was located in a remote suburb of the city. But times changed, and a populous neighborhood grew up around the church — including a Mayan community of more than 2,000 from coastal Mexico.
"We saw the changing demographics, so we decided it was an opportunity, a challenge and our responsibility to reach out," said Dr. Frederick Kramer, a long-time member at Trinity.
In collaboration with Concordia University, Portland, Ore., Trinity began offering English classes to the community. The congregation later added computer classes, fellowship meals, counseling services, immigration assistance, a community garden and a food program, which currently distributes 32 tons of food each year.
Trinity also invited Rev. Dr. Carlos Hernandez, director of LCMS Church and Community Engagement, to offer insights on how the congregation could better engage the community. "At every home I visited, I heard the same question: 'Puden venir a la escuela?' Can our children enroll in the school?" said Hernandez.
Since most of the parents were working in low paying service jobs and could not afford the tuition, "We began raising money to make it happen," recalled Kramer. Today, Trinity provides scholarships to eight Latino students, and the congregation has some 80 Latinos who attend its Spanish or English worship services. Mercy resulted in opportunities to Witness.
Helping congregations to recognize changing demographics and community needs is an important part of the work of LCMS Church and Community Engagement. Hernandez does this through an on-site, four-day "Planting Gospel Seeds While Serving Human Needs" training workshop, where congregational members and staff go out into the community to meet with local agencies and residents.
"Jesus is our model for community engagement. He engaged folks in conversations about spiritual and physical needs," said Hernandez. "Mercy softens the heart to receive the Gospel Witness so that the hearer may be drawn by the Spirit into our Life Together."
But Hernandez stresses that engagement begins with the household of God (Gal. 6:10). His ministry includes providing financial assistance and pastoral care to current and retired church workers in crisis through Soldiers/Veterans of the Cross. The current economic climate has put additional stress on small congregations, which are sometimes unable to fully provide for their workers' needs. During tough times, Soldiers/Veterans of the Cross helps church workers cover unexpected medical expenses, utilities or other financial burdens.

Learn More:
 
About the Author: Megan K. Mertz is a staff writer for LCMS Communications. She and her husband, Jonathan, are members of Mount Calvary Lutheran Church in Brentwood, Mo.