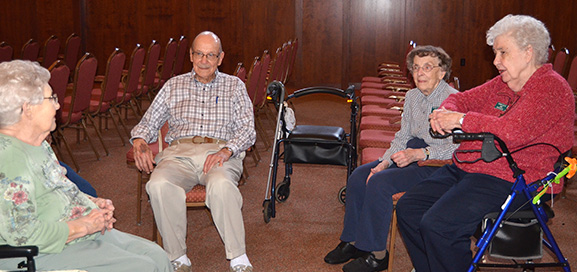 by Megan K. Mertz
Church workers care for the people of God. But who takes care of them during the tough times? Years ago, the LCMS began two programs — Soldiers and Veterans of the Cross — to help provide support for these faithful servants.
When an LCMS pastor was unable to find transitional, secular employment to support his large family while awaiting a call, Soldiers of the Cross, in partnership with his district, provided a financial grant to cover several months of basic living expenses.
"Thank you so much!" wrote the pastor. "Your assistance arrived in the 'nick of time,' but more important, it's a source of immense encouragement for our family knowing that our church has demonstrated the love and mercy of Christ to us in our time of need. We have not been abandoned."
"Our church has demonstrated the love and mercy of Christ to us in our time of need. We have not been abandoned."
Soldiers of the Cross
Since 2004, Soldiers of the Cross has provided emergency support and pastoral care for LCMS church workers based on financial need. This program has benefitted church workers affected by natural disasters, in situations where a congregation cannot afford to pay a church worker's full salary or when a worker is in danger of losing health insurance coverage.
"Districts and district presidents have stepped up to the plate to partner with us," said the Rev. Dr. Carlos Hernandez. "We match their assistance, which is helpful in extending the reach of our funds to struggling church workers. Our assistance helps to uphold Moses' hands."
Veterans of the Cross
Veterans of the Cross was created to support retired church workers who gave their lives in service to God. Many of these pastors, teachers and their spouses have staggering medical expenses and difficulties meeting even basic needs, especially if they retired prior to 1965 under the old pension plan. Faithful donors provide the funds to the LCMS. Concordia Plan Services administers the benefits as a supplement to low, inadequate pensions. The supplementary pension assistance makes it possible for retirees and widows to afford the cost of necessities like medication, food and electricity.
Through these two programs, the LCMS cares for the spiritual and physical well-being of the servants of the church. Without our preachers, teachers and other church workers, how could we hear the precious, saving Gospel? So we care faithfully and joyfully for those who proclaim the Word to us.
[do action="invest" tier1="Mercy Operations" tier2="–enter value" tier3="–enter value" budget="603,000″ email="mission.advancement@lcms.org" givenow="http://www.lcms.org/givenow/globalmission"/]

Print page