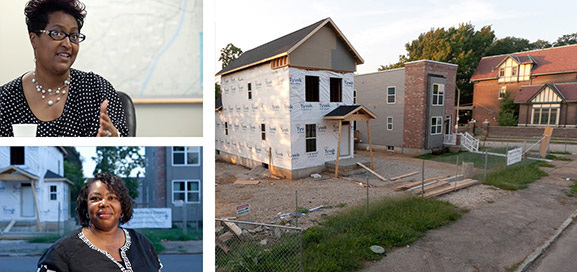 by Melanie Ave
ST. LOUIS — It sounds cliché, but it's true. When Carolyn Conner becomes the first homeowner this fall in the Nazareth Homes development in St. Louis' historic but struggling College Hill neighborhood, it will be her dream come true.
It also will be bricks-and-mortar proof of the latest neighborhood transformation by LCMS National Housing Support Corp., or Lutheran Housing Support (LHS) — one of only a few faith-based housing organizations in the United States.
The LCMS created the separately incorporated nonprofit in 2007 to provide resources and support to LCMS congregations, districts, Recognized Service Organizations and their partners engaged in affordable home ownership and neighborhood revitalization efforts.
The agency receives annual support from the LCMS. This year, it received a $200,000 grant to offset the cost of operations. LCMS departments also provide administrative support to LHS.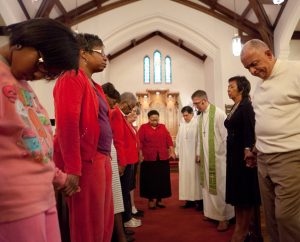 LHS aims to restore and revitalize neighborhoods that are anchored by LCMS congregations actively engaged in collaborative mercy. The organization provides access to capital and customized consulting services for underserved neighborhoods.
Helping LCMS congregations keep Christ in their communities is at the heart of the organization's ministry.
"We're supporting efforts that help people — people who deserve to have the basics: safe and affordable housing," said LHS CEO Nicole Ridley. "It's really about helping to transform lives and neighborhoods across the country, where in most cases both the people and the communities have been abandoned. We strive to do what Christ calls us to do, and that is to love our neighbors as ourselves."
Supporting Affordable Housing for 40 Years
The LCMS took a leadership role in the Nehemiah housing development in Brooklyn, N.Y., which began in the late 1970s, becoming the first denomination to commit financially to the effort. Years later, after more than $400 million was spent in affordable-housing construction, the Nehemiah program had dramatically transformed the struggling community.
Nehemiah — with more than 4,000 homes constructed — is now a model for successful, faith-based neighborhood renewal.
In addition to Nehemiah, LHS has partnered with congregations and community leaders in the Ezra Housing project in Chicago and the Lutheran Community Outreach Center in Fort Wayne, Ind.
From 2011 to 2013, LHS provided grants totaling $397,413 to 31 organizations and project support to 71 organizations in 16 states.
To help congregations understand the needs of their communities in preparation for potential housing work, LHS connects them with the LCMS Gospel Seeds outreach initiative. The initiative provides four-day training workshops to help congregations understand the unmet and underserved needs in their communities.
Meetings are scheduled and conducted with agencies serving the communities around LCMS congregations. Congregations also receive follow-up support through demographic studies.
"The church needs to go out and meet the neighbors with the goal of identifying mercy needs and serving those needs," said the Rev. Dr. Carlos Hernandez, director of LCMS Church and Community Engagement.
Work Begins in College Hill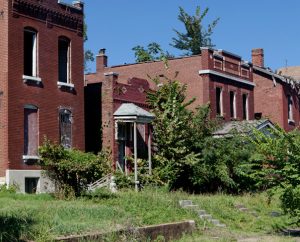 LHS only provides direct services in St. Louis, where it began working in the College Hill neighborhood in 2007 at the request of St. Paul Lutheran Church, which was founded in 1872. In the last 40 years, the College Hill neighborhood has undergone a radical change from a vibrant historic community on St. Louis' old north side to an economically ravaged neighborhood.
In the early 1990s, members of St. Paul made improving the neighborhood's housing a priority.
LHS came alongside the church and, with funds provided by the Lutheran Foundation of St. Louis in 2007, arranged for urban design consultants to create a revitalization plan for the neighborhood.
St. Paul member and College Hill resident Teri Rose, 55, a retired auditor, said Nazareth Homes has breathed hope into the future of her beloved neighborhood.
"We have to think and remember that Moses was in the desert 40 years," she said. "This is something that isn't going to happen overnight. It's a very difficult ministry."
LHS and Its Many Partners
Retired respiratory therapist Liz Henderson, 70, has lived in College Hill for more than 40 years. As part of LHS' work, her leaking roof was fixed, her house painted and porch rails installed on her house.
In all, 70 residents like Henderson received house-repair assistance in College Hill, spearheaded by LHS. A majority of the repairs were completed by Lutheran Church Extension Fund's Laborers for Christ.
Without help from LHS, Henderson said she would not have been able to afford the repairs.
"I enjoy all the Lutheran association people who come and help us better our homes," Henderson said. "They have brought us together."
Ridley said the work of LHS could not be done without its many partners. In College Hill, LHS is working with Wells Fargo and Women On Mission.
Women On Mission provided a $54,000 grant that funded homebuyer education scholarships to prospective buyers and $2,500 down payment and closing cost assistance grants to buyers in the Nazareth Homes development. Wells Fargo's grant of $50,000 is directly supporting the development costs of the first two Nazareth Homes.
Women On Mission is a faith-based group of women — many of them members of St. John Lutheran Church in Ellisville, Mo. — that has distributed $360,000 in grants to groups working in College Hill in the last six years.
Women On Mission President Gail Olson, 62, who lives in Chesterfield, a suburb of St. Louis, said she believes once housing is stabilized in College Hill, then other issues in the community such as crime, education and employment can be addressed.
"There are some wonderful, wonderful individuals that live in that community in circumstances that just shouldn't be," Olson said.
Houses Rise in College Hill
In August 2013 amid much celebration, the first house in the 20-unit Nazareth Homes development was completed and is serving as the development's model home. The list price for the 1,300-plus-square-foot homes, built in partnership with a local builder and Laborers for Christ workers, is $85,000.
This fall, Conner, a 50-year-old traffic court clerk and bank transaction processor, will leave her nearby family home and move into her own new house next door.
The St. Louis native has dreamed of owning a new home since she was a little girl.
"As we get older our dreams don't always come to pass," Conner said. "It just so happens that this one is. I'm very grateful."
Ridley said 20 more people are currently enrolled in financial education courses and are in the pipeline to purchase homes in College Hill.
"Our Lord commands us in the 12th chapter of Mark to love our neighbors as ourselves and Christ Jesus, in His ministry on earth, provided us the most perfect example of living this command through His attention to both the spiritual and bodily needs of His people," Ridley said. "Housing ministry embodies that command."
To learn more about Lutheran Housing Support, visit www.nationalhousingsupport.org. www.lcms.org/gospelseeds