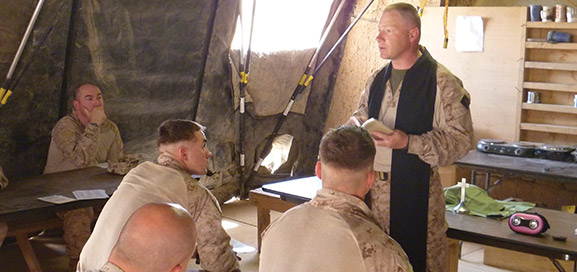 by Pamela J. Nielsen
In bunkers and fighter jets, on battleships and bases, in field hospitals and training camps, the men and women of the United States Armed Forces stand at the ready in service to our country.
With them are the 160 active and Reserve LCMS Armed Forces Chaplains stationed around the world. These pastors proclaim the Word of life, in environments often shrouded in death. Their flocks frequently come and go, providing scant opportunity for long-term ministry. Their work takes place in some of the most difficult situations any pastor could ever face, where lives can be unraveled in an instant.
Upholding these faithful servants is the Ministry to the Armed Forces (MAF), the LCMS effort to care for and support military chaplains and, through them, our LCMS members and their families in uniform.
Retired U.S. Navy Chaplain Rev. Dr. Mark J. Schreiber, CAPT, CHC, USN (Ret.), MAF director, explains that the MAF exists to recruit, prepare, endorse and support LCMS chaplains in their service to God and country.
Authorized by the Synod and registered with the Department of Defense, Chaplain Schreiber is the endorsing agent for LCMS military chaplains. Noting the "lifelong marriage" between his office and our chaplains, he describes the ongoing contact he has, including an annual visit with each chaplain. Through these visits and regular reports by phone and email, MAF helps the chaplains to stay connected with their church.
Each year, MAF gathers the chaplains at one of three pastoral conferences, providing a rich opportunity for Lutheran worship, fellowship and study with LCMS seminary professors. Conversation is focused on the unique challenges of military chaplaincy.
Operation Barnabas
Operation Barnabas, an extension of MAF, provides a network of care through trained congregations that want to reach out to members of the military, their families and the veterans in their congregations and communities.
When a parish pastor is called to active duty in a Reserve unit, Operation Barnabas supports the mobilized pastor, his family and his congregation, working through counselors they have trained and the pastor's district president.
America's sons and daughters are in harm's way in faraway lands, and our chaplains go with them. Their families wait in our communities, where the people of God support and care for them in our life together.
[do action="invest" tier1="Office of International Mission" tier2="Ministry to the Armed Forces" tier3="–enter value" budget="600,288″ email="mission.advancement@lcms.org" givenow="http://www.lcms.org/givenow/globalmission"/]