by Laura J. Seaman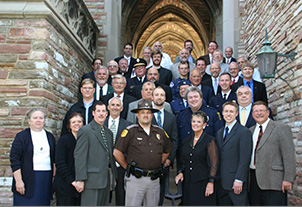 More than 900,000 law enforcement officers risk their personal safety daily to defend and protect their fellow citizens in communities large and small across the country.
While patrolling crime-ridden neighborhoods and responding to crimes and emergencies, they often encounter the raw edges of sin and death in a broken world. The demands of such a job take a toll on the emotional, mental and spiritual stability of those who serve. It is into this world that law enforcement chaplains enter with the promise and peace of Christ.
Chaplaincy in the context of law enforcement is a very specific ministry and requires specialized training. Concordia Seminary, St. Louis (CSL), and Peace Officer Ministries offer an annual workshop for law enforcement chaplains. The "Christian Law Enforcement Chaplaincy — Theology and Practice" workshop offers training and networking for seminary students and recent graduates to prepare them for service in this mission field. This year, the LCMS provided a $2,000 grant to help defray registration costs for students attending the workshop.
"As a chaplain… you are the presence of Christ in their midst."
— Matt Mau, a 2013 graduate of Concordia Seminary, St. Louis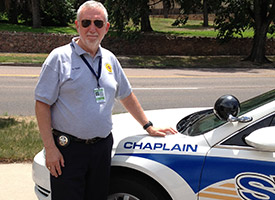 "Law enforcement chaplaincy is a meeting of two different cultures," said Sol Grosskopf, a recent graduate of CSL and a May conference attendee. "It typifies the nature of the two kingdoms as we seek to serve man and serve God."
Matt Mau, another recent CSL graduate who attended the conference, said the ministry is an "opportunity to minister not only to the ones who protect and serve us, but to be a voice of hope in the community. As a chaplain … you are the presence of Christ in their midst."
Presenters at the conference address a variety of aspects to chaplaincy, both theological and practical, including topics such as crime scene and investigation awareness training, and proper response to line of duty deaths. Theological topics include the Lutheran understanding of the two kingdoms, vocation, and a Law and Gospel approach to service.
The conference provides an opportunity for seminary students to meet chaplains from across the country. "It's exciting to see we are united in our Lutheran theology in the specific context of law enforcement chaplaincy," Grosskopf said.
Recipient:
Concordia Seminary, St. Louis
Amount:
$2,000
Result:
Seminary students were able to attend the law enforcement chaplaincy conference to learn about the theological and practical aspects of this unique ministry setting.