by Jeni Miller
The news is often disheartening. Fox News reports, "In Ethiopia, after a Christian was accused of desecrating a Koran, thousands of Christians were forced to flee their homes when 'Muslim extremists set fire to roughly 50 churches and dozens of Christian homes.'"
And yet, there remains a brightness in Ethiopia amid the darkness of evil and persecution. The Gospel continues to have its way with the East African churches, and The Lutheran Church—Missouri Synod is right there beside them, participating and supporting them as their story unfolds.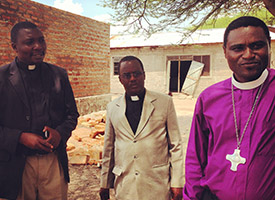 But this support looks a bit different than one might think. "The churches in East Africa are older churches, approximately the same age as the LCMS," explained the Rev. Dr. Albert Collver III, director of LCMS Church Relations. "These are not new mission starts. They have their own mercy work and schools. They are fully autonomous and doing things like caring for the poor, evangelism, and training pastors and church workers. With mission plants, we do a lot of the work, but in these churches they are doing all of this themselves."
These mature churches in East Africa — namely Ethiopia, Kenya, Madagascar and Tanzania — are growing at a rapid pace as they hold fast to Scripture and the Lutheran Confessions.
The Lutheran church of Ethiopia, known as the Ethiopian Evangelical Church Mekane Yesus (EECMY), began with the efforts of Norwegian Lutherans and other mission societies and groups that had been working in the country nearly a century ago. The church was officially founded in 1959 with 50,000 baptized members. Today, the EECMY is a church of more than 6.1 million, organized into 8,000 congregations, with a desire to continue spreading the Gospel.
"The EECMY has a goal of training 12,000 pastors and reaching out to 30 million people over the next five years," said Collver. "They're primarily growing in areas where African traditional religion is prevalent. In some sense, because Islam hasn't moved there, it's the firstfruits of the Gospel proclamation that they're experiencing. They recognize that part of the growth is related to demographics, and because of that they want to be sure that their Lutheran identity is clear and they have solid theological education."
According to the East African churches, theological education is one thing that the LCMS does particularly well. "In the past decade, Lutheran churches in East Africa have been pleading with the LCMS to send missionaries who are thoroughly trained in Scripture and the Lutheran Confessions to teach at their seminaries," said the Rev. Dr.
Timothy Quill, associate professor of Pastoral Ministry and Missions and dean of International Studies at Concordia Theological Seminary, Fort Wayne, Ind. "They also want to send their brightest and best to study at LCMS seminaries so they can return home to teach in their seminaries, Bible schools, evangelist training centers and to serve as leaders in their church bodies.
"The Lutheran church will not survive without educated pastors who can read and understand Scripture and then preach it, teach it and put it into liturgical practice and pastoral care," he said. "At the same time there is a large migration to burgeoning urban centers where the number of educated Africans is mushrooming. Educated Lutherans urgently need educated pastors."
And at this moment, support in theological education couldn't be more important to the EECMY.
In February 2013, the EECMY officially severed its relationship with the Evangelical Lutheran Church in America (ELCA) and the Church of Sweden over the issue of homosexuality. But the Ethiopians' faithfulness to Scripture and the Lutheran Confessions came with a cost. Because of the EECMY's decision to stand firm on God's Word, the ELCA discontinued its support — including funding — for Ethiopian students at their seminaries.
Meanwhile, the LCMS was at the ready to step in and assist its brothers and sisters in Christ by providing Global Seminary Initiative (GSI) scholarships, as we, in turn, received from them an example of bold faithfulness to God's Word.
In an interview with Reporter, the Rev. Berhanu Ofgaa, general secretary of the EECMY, said the EECMY is a "fast-growing church, active in mission but placed in an economically poor country. Like the lame person that was healed, when Peter and John said, 'Gold and silver I don't have, but I give you what I have' [Acts 2:6], we say the same thing. Even if we don't have gold and silver, we exchange with the LCMS a rich society. We have rich experiences and culture. We share with the church in the west, but still, we expect the support in our needs, in areas of economic need, and your expertise in training pastors. So there is a lot we both can exchange and nurture [in] one another in ministry."
As the church in Ethiopia clings to Christ and His promises, especially through its brave move to break ties with the ELCA and the Church of Sweden, the other churches in East Africa are not far behind.
Collver noted, "There is a saying, 'Where Ethiopia goes, the rest of Africa follows.' The churches in Tanzania and Madagascar* feel empowered by what Ethiopia is doing and they know it is possible to do the same."
The Evangelical Lutheran Church in Tanzania has a current membership of about 5.6 million, and they too are seeing rapid growth in areas where African traditional religion exists. However, as membership grows, the church's single limiting factor is a widespread shortage of pastors. Most Lutheran pastors in Tanzania serve multi-point parishes, so when the LCMS assists them in training even just one pastor, that pastor then has the ability to plant five or more churches.
In Madagascar, the Malagasy Lutheran Church has a rich and impressive history dating to the 1860s. Since that time it has grown into a vibrant church of about 4 million members. Just like the other East African churches, those in the Malagasy Lutheran Church desire to be faithful Lutherans, holding fast to God's Word and reaching out to their hurting neighbors in mercy. The Rev. John Pless, assistant professor of Pastoral Ministry and Missions at Concordia Theological Seminary, Fort Wayne, Ind. coordinates the seminary's annual "Mercy Mission Expeditions" to Madagascar to support this growing church. Pless and the group of visiting students distribute books, deliver funding to specific institutions and provide encouragement to the churches and seminarians in Madagascar.
"Now is not the time for the LCMS to stand idly by but to confidently and compassionately share what the Lord has given us to confess," said Pless. "Our first priority in East Africa should be theological education. In this way we can equip our fellow Lutherans in these countries with resources to shape a strong confessional witness in doctrine and practice in their context."
While the LCMS is in partnership with the Evangelical Lutheran Church in Kenya, but not yet with the churches in Ethiopia, Madagascar or Tanzania, we look forward to the day that we can be in full fellowship with all of East Africa. "They're looking for church partners now," Collver said. "They look out into the world and ask, 'What is a church that teaches the Bible and the Confessions?' And so we continue to encourage them. We still have doctrinal differences, but in the meantime we look for areas that we can do projects together that do not include church fellowship, like human care, consultations about how they set up schools, etc. They want us to walk alongside them."
Quill said as Christianity continues to disintegrate in Europe and America, many people are astonished to hear about the rapid growth in Lutheran churches in Ethiopia, Kenya, Tanzania and Madagascar.
"The preaching of the Gospel moves about the earth like rain, bringing life and salvation," he said. "When it is rejected, as the prophet Amos proclaimed, a famine of the Word follows. The Gospel is raining down across East Africa and being received to the great blessing of many."
Jeni Miller is a deaconess, freelance writer and pastor's wife. She lives with her husband and daughter in Cedar Rapids, Iowa.