by Megan K. Mertz
According to the U.S. Census Bureau's yearly American Community Survey, there were an estimated 40 million foreign-born people living in the United States in 2010. Although a majority of these people resided in the traditional "gateway" states of California, New York, Texas, Florida and New Jersey, the survey found that those arriving after 2005 were more likely than their predecessors to settle in nontraditional destinations.
Today, there are foreign-born residents living in every state in the country, even Alaska! The people living in your community may surprise you. From Sudanese in Fargo, N.D., to Pakistanis in Denver, Colo., to Brazilians in San Antonio, Texas, the world is truly at our door.
LCMS members like you are demonstrating the love of Christ to immigrants through English classes, job training, Bible studies, driving lessons, food and clothing distributions, and in many other ways.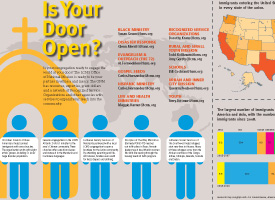 In the Pacific Southwest District alone, 81 congregations offer non-English worship and social ministry outreach to immigrants from Africa, Asia and Latin America. In addition, the Missouri Synod's Recognized Service Organizations (RSOs) also extend the reach of the Church by providing additional services and resources to spread the Gospel.
"The face of the LCMS must change in the coming decades if the LCMS is going to remain a strong and vibrant church," commented Rev. Bart Day, executive director of the Office of National Mission (ONM). "That's why the Office of National Mission is expanding its work among ethnic groups, specifically by increasing staffing and resources in Hispanic ministry, creating a stronger network among our African immigrant communities and reaching international students via campus ministry. With the continued financial support of people across the Synod, the ONM will continue to offer domestic grants and other funding to help expand ethnic work at the local level, through districts and congregations."
By bringing people of all nations to the LCMS, God is giving us opportunities to share the Good News of salvation in Christ Jesus through our witness and mercy. "The future of the LCMS is an ethnically diverse church that reflects St. John's vision of heaven in Revelation 7," Day said.
Do you know your neighbors?
Download Infographic:
PDF Format