by Megan K. Mertz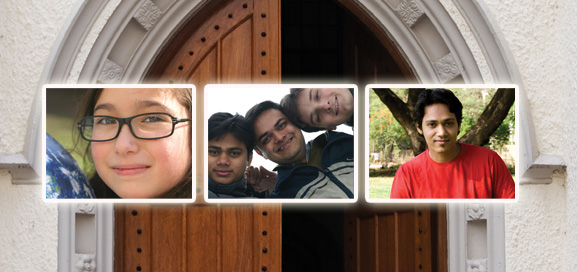 Each year, some 200,000 new international students arrive in the United States with little more than what fits in a suitcase. As they adjust to life in a foreign country, they have many basic needs: friendship, furniture, English conversation practice, transportation and help navigating everyday situations.
The countries that send the greatest numbers of international students — like China, India and Saudi Arabia — are often indifferent or even hostile to the Gospel message.
Over the years, LCMS congregations and members have embraced these opportunities to share the Gospel with people who may not have otherwise had the chance to hear the Good News. In 1996, the Synod guided the formation of International Student Ministry, Inc. (ISM, Inc.) to foster intentional outreach among international students. Today there are more than 90 ministries across the country serving students in every type of institute of higher learning, even community colleges.
The Harvest Is Plentiful
"Last year there were more than 760,000 international students in the U.S., and 70 percent of them will finish their studies without ever visiting an American home," said ISM, Inc. founder Rev. Dr. Carl Selle.
As Selle and others emphasize, building relationships with international students is the best way to minister to them. Programs that are successful at witnessing first start by offering practical services, such as English classes, furniture giveaways, free meals, pumpkin-carving parties or ice-skating trips.
"I met a Chinese student at a welcome dinner, and our first conversation was about cereal. She was asking about all the different kinds at the store," said Rev. Paul Hoemann of University Lutheran Chapel at Texas A&M University. "Just over an innocent conversation like that, God opened the door and she was later baptized."
Location also plays a role in what services or events might be offered. "A lot of students aren't prepared for how cold it is in Michigan. We try to help by providing winter clothes," said Anne Bakker, director of international ministry at Christ the King Lutheran Chapel, Central Michigan University.
International Student Ministry—St. Louis serves more than 400 international students each semester. New students learn about the ministry through the furniture giveaway in August and later join Bible studies and conversation classes. ISM—St. Louis has seen more than 50 Baptisms over the years.
But as Rev. Lawrence Mitchell, senior pastor of Faith Lutheran Church, Bloomington, Ind., notes, "It is likely that we will never see the end result of the ministry that we do here. But we're planting the Gospel seed, and these students will take Christ with them when they leave."
Annual Investment in Campus Ministry: $80,000
Campus ministry in general — and especially to international students — takes many forms. Some, like Mitchell's ministry to Asian students at Indiana University in Bloomington, Ind., are supported primarily by the local congregation and community. Others are made possible through the combined support of dedicated people, districts and Recognized Service Organizations, in partnership with the Synod.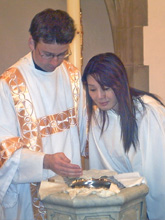 "Nowhere is Witness, Mercy and Life Together more tangible than in international student ministry. We show mercy through ESL, friendship programs, dinners and so on, which ultimately leads to witness as students become curious about why we do what we do for them. Then international students are invited to be brought into this life together through the font," said Rev. Eric Andrae, campus pastor at First Trinity Lutheran Church, Pittsburgh, Pa.
In January, the LCMS Office of National Mission renewed its commitment to campus ministry through the announcement of LCMS U (www.lcms.org/lcmsu), a new initiative to strengthen the collective work of these ministries around the country. LCMS U will connect and support those involved so that they can boldly bear witness to Christ on the nation's college campuses.
"One of the greatest ways for the LCMS Office of National Mission to support the global expansion of the Gospel is to work with international students," said Rev. Bart Day, executive director, LCMS Office of National Mission. "Having heard the Gospel of Christ at school, many of these students will spread the Gospel to the ends of the earth as they return home to become leaders in their communities. The world is at our door. Thanks be to God."
Meet Hao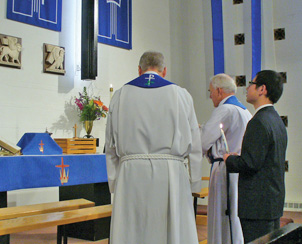 In 2009, Hao Yang came to the United States to work on a doctorate in chemistry. At the time, the Chinese national was curious about why so many people believed in Jesus and the Bible, but he wasn't a Christian.
In his spare time, Hao began attending events organized by International Student Ministry—St. Louis. He also joined a Bible study led by one of the organization's volunteers. During the next two years, he was "naturally convinced" to become Lutheran.
"I thought [Christianity] is a religion which encourages kindness, but I did not think it represented truth," said Hao, reflecting on his earlier notions. "But as I read the Bible more and understood more, I realized I was already changed."
In 2012, Hao was baptized at Timothy Lutheran Church in St. Louis, Mo. No matter where life takes him in the future — to the U.S., China or beyond — Hao now finds comfort in knowing that God is in control.