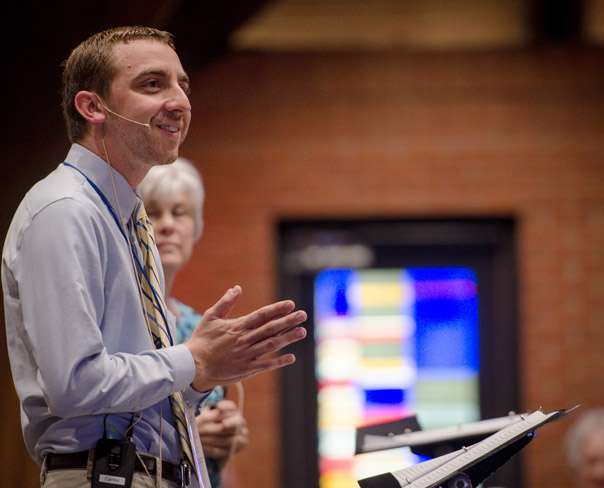 by Adriane Heins
Cantor Paul Soulek likes doughnuts and the Church's song, though not necessarily in that order. His parents were, he says, "instrumental (no pun intended) in my decision to attend Concordia University, Nebraska and become a full-time church musician." Soulek, who stays plenty busy as director of Parish and School Music at St. John Lutheran Church and School, Seward, Neb., recently took time to assist in planning and carrying out the Synod's July 2014 "Institute on Liturgy, Preaching and Church Music," also held in Seward, … and to answer, in his own spunky way, a few questions.
1. Why did you decide to be a church musician?
I started playing piano and organ by ear when I was 5 years old. Area churches needed organists, so I began filling in during my junior high years.
2. Top two favorite hymns.
This is one of the most gut-wrenching questions to be asked. Really. But if I had to pick …
"O God, O Lord of Heaven and Earth" (LSB 834). Front and center in this text is the righteousness of Christ breathing our "poisoned air," being the road that "leads us back to God" through His death and resurrection.
"If God Himself Be for Me" (LSB 724). If played at the appropriate (read: fast enough) tempo, these 10 stanzas fly by. Absolutely nothing on earth or heaven is able to separate us from Christ and His love.
3. How did your Concordia University System (CUS) education prime you for your work?
The real treasure in my CUS education was the relationships. I was able to wrestle with difficult issues [with others], be directed to Christ and His gifts and develop strong friendships.
4. Most influential CUS professor and why.
I can't answer this question, and it's not just because most of my professors are members at the congregation where I serve! … The real lessons were learned in conversations and experiences with my professors outside of class. They led by example.
5. What's the most misunderstood thing about church musicians?
That we're crazy curmudgeons who are primarily concerned with keeping people (especially children) away from the organ and piano. Most church musicians are trained in theology and have a deep care and concern for the people whom they serve. Some are even visibly excited about it, and if they're not, they need more coffee.
6. Your biggest worship or music pet peeve.
Filler words. This applies to worship services, music rehearsals or any conversation. If you say "uh" or "um" excessively, know that I will be counting. (Having a great speech teacher was a blessing and a curse.)
7. How do you encourage future church musicians to study at a CUS school?
Many students visiting Concordia University, Nebraska sit in on services and rehearsals at St. John. I enjoy answering questions about the program, giving tours and staying in touch on Facebook.
8. How are you shown pastoral or spiritual care when you're working on Sunday mornings?
It's easy to lose focus and simply treat my vocation as a "job." I talk about this with my pastors regularly. We encourage each other to remember that these gifts of Word and Sacrament are for us, even in the midst of something that may be considered "work."
9. Why is it important to teach children the faith in song?
Song and liturgy bring us Christ. And Christ is the redeemer of young and old. Teaching children to sing of Christ now is a rehearsal for eternity.
10. Favorite instrument. And you can't say "banjo" just to butter up President Harrison.
The human voice. While I have a degree in organ and have some mad accordion skills, my greatest joy is hearing a congregation sing together.