by Pamela J. Nielsen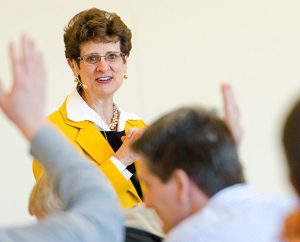 For more than two decades, Dr. Beverly Yahnke, a licensed clinical psychologist, has helped church workers cope with the struggles and stresses they encounter as they serve the Lord. Currently, Yahnke serves as DOXOLOGY's executive director for Christian counseling and as a department chair and professor at Concordia University Wisconsin (CUW), Mequon, Wis.
1. Were you a product of Lutheran education?
I began my journey in Christian education with two undergraduate years at Concordia (the first Milwaukee campus) and my final undergraduate years at Concordia Senior College (the current site of Concordia Theological Seminary, Fort Wayne). It was transformational; it provided precisely the kind of spiritual formation upon which mature faith and service builds.
2. How did you get into psychology?
My master's degree from Purdue University was in Rhetoric and Communication. Although that training continues to serve me well, I wanted to take on the world of clinical inquiry. I was thoroughly engaged with understanding the challenge of people who were struggling with all matters of personal mayhem. It occurred to me that the doctorate would allow me to teach, to do clinical work, to provide public education, to write, to research and perhaps, by God's grace, to actually be of assistance to people with some difficult needs.
3. What trends did you see in your private practice in terms of church workers who came to you for help?
I named my clinical practice "Christian Counseling Services" hoping to invite those who would like to bring the resources of their faith with them as they began clinical care. The most common diagnoses for the church workers I treated included depression and anxiety. These servants often felt guilty about having such diagnoses.
4. How does faith intersect with psychology?
Psychological healing requires careful assessment and an opportunity to examine one's history, cognitions, patterns of behaviors and attitudes. Yet when people have been wounded, the damage is often spiritual as well. We are, after all, spiritual beings. As a psychologist, Christian hope has been one of the most powerful gifts that I could offer any broken soul.
5. Is there one message you would like to share with the church about caring for workers?
Love your pastors. Love your teachers, DCEs, deaconesses, DCOs and every other church worker whom God has given you. Pray for them, thank God for them, ensure that you are paying them a living wage, encourage them and invite them into your lives to share your joys and sorrows! … Read the call document you offered your worker … . In what ways has your congregation honored those promises recently?
6. What would you say to church workers who are struggling in their service?
Please don't struggle alone. Please don't imagine that simply enduring your struggle and remaining silent will result in moving through and beyond any difficulty. I've always believed that when one is struggling in service, it is a peculiar kind of idolatry that prompts any of us to say, "I can handle this myself; I don't need anyone's assistance."
7. In the successful partnership between pastor and psychologist, what do each of you bring to the table?
Dr. Senkbeil … has provided spiritual care for many hundreds of parishioners and has acquired the reputation for being a pastor to pastors. My clinical work has allowed me to serve many hundreds of church workers who have been in some sort of mental, emotional or professional pain. We've been blessed to create a unique professional team providing an engaging amalgam of theology and psychology.
8. What is your role at CUW, and how does that dovetail with DOXOLOGY?
I currently serve as department chair of Social Sciences and professor of Psychology at CUW. I love to teach; it is positively exhilarating! Whether I'm talking with pastors or lay leaders or students, I am so fortunate to be able to do what I do and I'm blessed to work with some pretty remarkable people.
9. What sense of the future do you get from teaching college students?
They are hopeful young people, testing their opinions in the classroom and determining how their faith and education will prepare them for the countless contradictions they find in the culture all about them. Our church is raising a new generation of faithful teachers, preachers and lay leaders. Thanks be to God!
10. What is the single greatest joy in your work?
These days, I find incredible joy in working with almost 700 of DOXOLOGY's pastors, some of whom have said that DOXOLOGY has saved their ministry, their marriage or their life. That is pure joy; God is good, indeed.
 Pamela J. Nielsen is the associate executive director for LCMS Communications.

Print page