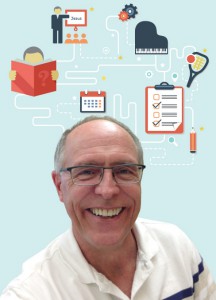 by Melanie Ave
Jim Anderson, 58, grew up the youngest child in a Lutheran family of five in rural Minnesota. He received a Director of Christian Education (DCE) degree from Concordia University, St. Paul and a master's degree in educational leadership from Augsburg College. Anderson oversees family ministry at St. Michael's Lutheran Church in Bloomington, Minn., where he has worked for 32 years. Jim and his wife, Karen, have two grown daughters and three grandchildren. Friends and family are apt to describe him as positive, outgoing, humorous and passionate about life and faith. When he's not teaching Bible, parenting or marriage classes, he enjoys spending time with family and friends, reading conspiracy novels and playing racquetball and piano.
1. How did you end up becoming a DCE?
I felt a strong calling by the Lord my high school senior year to go into church work but didn't feel led to become a pastor. I heard about DCE ministry and knew immediately that this was my calling. God works and leads us in the way He would have us go.
2. How would you describe your main responsibilities as a DCE?
My responsibilities have changed vastly over the years. I've been a generalist (cradle to grave), youth specialist, adult and small group ministries [leader] and currently [oversee] family, care and education ministry.
3. What types of skills would you say are needed most for someone to be an effective DCE?
First and foremost, [they should have] a mature faith in Christ, interpersonal people skills, teaching abilities, leadership-influencing skills, [be] a team player and [have] a servant's heart to serve the people they are called to serve.
4. What is the most challenging aspect of your job?
Dealing and resolving conflict as I work best in a harmonious environment.
5. What is the most rewarding aspect of your job?
Equipping people to serve in ministry that fits their gifts and passion and seeing their lives transformed by Christ! When others see a change in these peoples' lives and the excitement and joy they are experiencing, it helps other people say, "I want that. How can I plug in?" That to me is so exciting.
6. If you weren't a DCE, what would you be?
I'd probably be a trainer or consultant. I love teaching.
7. Why are DCEs important within the LCMS?
They bring skill sets such as teamwork, collaboration, servant leadership, lay leadership equipping/training. [They] are creative and resourceful, are educators of the faith, initiators of new ministries and, Lord willing, are models of Christ-like servanthood.
8. If you had to do it all over again, in terms of your professional life, what would you do differently?
I would've established a healthier balance much earlier between my professional and personal life.
9. What advice do you have for others who may be considering becoming a DCE?
Do you feel the Lord is leading you in this endeavor? Be aware of what this church profession requires (the commitment, skill levels needed, etc.). Make sure you have a strong desire to serve Christ in His Church with the people you are called to serve. Be willing to be a team player and have a joy-filled heart in serving His kingdom!
10. Is there any advice that you received about your career that really helped you?
Find an older DCE to learn from. And I did. I really valued that advice and the experience that came with that.