by Melanie Ave
The Rev. James Sharp is in the trenches of daily ministry as one of about 6,000 pastors currently serving an LCMS congregation. Leading a dual parish in Maryland — Christ Lutheran Church in Dundalk and Nazareth Lutheran Church in Baltimore — Sharp shepherds two congregations, in two locations with two schedules, and with two very different types of members and needs. He is a busy man. He also is a man committed to teaching and confessing the faith with a lot of help from God and a lot of energy from the massive amounts of black coffee he consumes daily.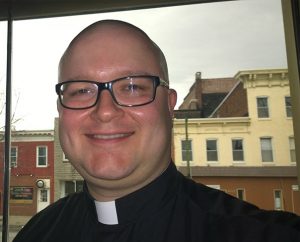 1. What's it like leading a dual parish?
It's a lot like having two kids. I want to love them both and treat them fairly. It doesn't mean treating them the same, necessarily.
2. Describe Sunday mornings.
We have church at 9 at Nazareth. By the time I'm done with church, I have 15 to 20 minutes to hobnob and head over to the other church, where we have church at 11. I spend a lot of time driving back and forth between two churches. I grew up in a larger congregation with two or three services. Pastors were always running around. It's not too different from that.
3. How has being a pastor changed you?
It's forced me not to think about myself so much. Being a pastor in the cities where I serve … I have a much more clear desire to serve others than to serve myself. Being a pastor for almost 10 years now has helped me be less selfish and more loving and caring for other people.
4. Where does your energy come from?
I drink an awful lot of coffee. I have a pretty good relationship with the local roaster.
5. What do you enjoy in your time off?
I have two boys and two girls. I try to spend time with my family. That's where I get a lot of energy and joy for the ministry … . Every pastor, first and foremost, is a priest and minister to his family. I take that very seriously.
6. Do you ever say no?
No. (Laughs.) I've been working on that. It's hard to say no to a congregation, church members, to my family. There are things that I've decided not to say no to. When my kids were little I said I would never say no if they asked me to read a book or to sit on my lap … . I've learned you don't always have to give people what they ask for. Sometimes you can offer something better and give them what they need.
7. What do you want your congregations to be like in 10 years?
I'm hoping we'll work more closely together and with other congregations in the area. We've been looking at ways to extend the partnership.
8. What is your view on church revitalization?
It doesn't mean we have to reorganize the church from top to bottom. It doesn't mean change everything. It means we can add something new, and when the new ministry takes off, then the Lord blesses the new ministry. It will change your congregation and change you in ways you can't anticipate.
9. Any church revitalization tips you want to share?
I definitely encourage congregations to look at multi-parish ministries. My congregations were forced into it by decline. Both had full-time pastors in the past but neither could continue to afford it. Churches could work together before that point and share an outreach pastor. I encourage congregations and pastors to cooperate and work together more than we have in the past.
10. What is one thing you would like people who live and work near your congregations to know about what goes on inside?
These are places that really love people. Whatever they might have heard about church or know about Christianity, if they walk into one of my parishes, they will find people who will love them and love them unconditionally. That's something I don't think people expect.
 Melanie Ave is a staff writer for LCMS Communications.