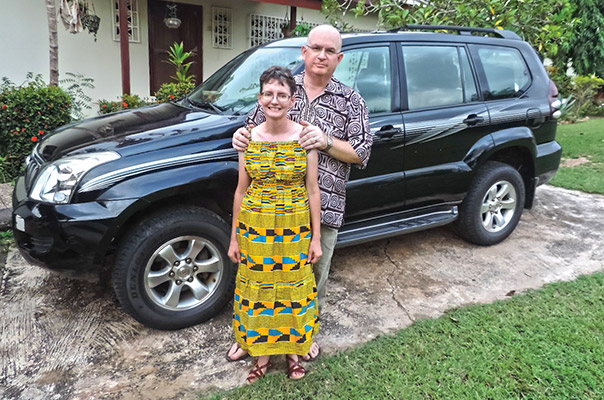 Acquiring residence permits, setting up a home in a foreign land, learning a new language, petting a crocodile, even dealing with a bout of malaria. These are a few of the experiences the Rev. Dale and Suzanne Kaster, new LCMS career missionaries to Ghana, have had since moving from Jacksonville, Fla., to the West African country on May 11. Despite the challenges, Kaster says they have been continually blessed, and he encourages LCMS members — both church workers and laypeople — to consider serving the Lord in Africa.
"Things change here from day to day. You just have to trust it all to God, who sees the whole picture." — Rev. Dale Kaster
1. Describe your work in Ghana.
The work that brought us here was to help the Evangelical Lutheran Church of Ghana train men in the northern part of the country for the pastoral ministry. To do that, we have based ourselves in Tamale, the largest city of northern Ghana. Tamale used to have a Lutheran congregation that has since folded, so I have been holding Lutheran worship here for the faithful and as an outreach to non-Christians and non-Lutherans alike.
2. What prepared you for this work?
Twenty-four years of parish ministry in the States has been a huge factor. Daily struggling with the Word of God and applying it to the lives of the hurting, broken and sinful have helped me understand how life in the Church is a rich blessing of God, imparting to us His grace for our every need. … But without a doubt, it is our daily prayers — asking for wisdom, strength and grace to accomplish our task — that keeps us constantly "prepared." Added to these are the prayers of the many who have partnered with us as supporters.
3. As a network-supported missionary (NSM), from where does your support come?
NSM missionaries raise the funds needed to support their work through visits with parishes, ministries and partners. We have been blessed to have what we need and then some. The monies needed to pay for our ministry come completely out of that account.
4. What is the most extraordinary form of support you've received?
A young lady in Iowa was moved to offer her confirmation gift monies to our work through Mission Central. She has since saved up other monies and donated them to our work.
5. How does the Synod support you as a missionary?
The most important thing is that the Synod encourages us through prayer. It gives us much strength to know that those who supervise or work with us here are praying for us. … Also, the staff of the LCMS Office of International Mission helps us finance large items (car, computer, etc.). They also make sure that we are not in any danger.
6. What is most challenging about your work?
No matter how long one lives with an ethnic group, you never can fully understand their worldview and culture. So when you take the universal message of salvation in Christ Jesus to them, you need to make sure that they are being reached where they are. Therefore, you need to begin with the Small Catechism — what is Law and what is Gospel, what is sin and what is grace, and, most importantly, who and what is our blessed Savior, Jesus Christ.
7. Most rewarding?
A young man who was driving our cab in Accra [the capital city] was asking us about our faith. He had attended a church that had not properly preached Christ. I had an opportunity to share the cross of Jesus with him and how it delivered to him full forgiveness of his sins. His response was: "Finally, I get it!" Those things make the sacrifices here most endurable.
8. What has surprised you about your new home?
That when the rain comes down hard, our floor slab actually leaks, and we are OK with it!
9. What do you miss from home?
Not to be trite, but our family and time with them around the dinner table. But we also miss the conveniences of the States: fast food, pre-made food, a grocery store!
10. What advice do you have for people who are considering missionary service?
Be flexible! Things change here from day to day. You just have to trust it all to God, who sees the whole picture.
Find a missionary to support: www.lcms.org/missionarysupport
Follow the Kasters' missionary journey: www.facebook.com/KastersinGhana
Megan K. Mertz is a staff writer for LCMS Communications.