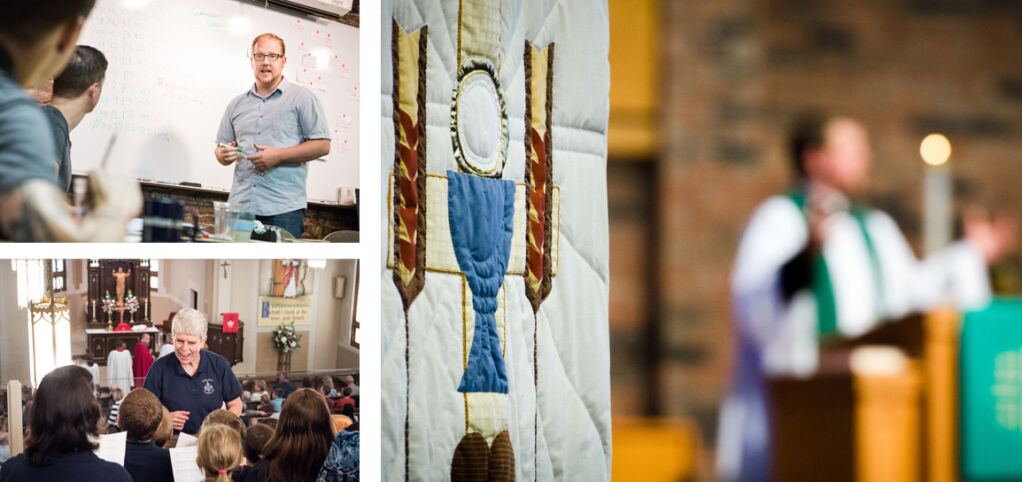 by Pamela J. Nielsen with H. R. Curtis
Children to baptize. Newcomers to catechize. People in the pews who are glad to be in church, receiving the Lord's grace and giving Him their praise. That's the mental picture we have of a thriving congregation. We certainly don't think of tense budget meetings, stressed-out treasurers and being forced to choose between this or that ministry due to a lack of funds.
Yet after the Baptisms have gotten fewer and farther between, and the attendance is suffering, and folks are grumbling, it's often the "stewardship symptoms" that force a congregation to face the fact that something needs to change. So they set out on a stewardship project or a financial overhaul … but the solution is not financial because the problem is not really financial either.
Instead, it's the other way around. Revitalized stewardship comes from revitalized Christians: people of God who see and understand the purpose for which God has set them on earth in a particular congregation, family and community.
"Christians who understand the great purpose for which God has called them become joyful, Gospel-motivated givers who see their local congregations for what they are: colonies of the kingdom of God." — Rev. H.R. Curtis
Communicating this message is the task of LCMS Stewardship Ministry. As part of the Office of National Mission, Stewardship Ministry helps pastors and congregations teach the Word of God regarding one aspect of Christian sanctification: imitating God in sacrificial generosity.
The Rev. H.R. Curtis, coordinator for LCMS Stewardship Ministry, and the Rev. Nathan Meador, assistant coordinator, are both parish pastors, practicing what they preach in their service to the Synod.
"We know the struggles that pastors and parishes are facing in terms of finances," says Curtis, "because we both face them every day. For me, that's in a small church in a rural setting. For Pastor Meador, it's in the setting of a large church and school with a huge staff. The challenges are different, but the biblical theology and practice are the same."
Curtis says that the Lutheran approach needs to keep stewardship firmly placed within the pastoral and theological task. "Stewardship doesn't stand on its own: it's part of our sanctification. And that means stewardship begins with Law and Gospel, repentance and faith — and then moves toward educating people with the Word concerning the new Christian life."
One key concept for LCMS Stewardship Ministry is vocation. God has given each of us a holy calling in the home, in the Church and in society. These holy callings give purpose to our lives and make a claim on our presence and our support.
Stewardship Ministry gets this message out through the many resources it produces and the speaking engagements Curtis and Meador conduct throughout the year — as well as through specialized conferences and training sessions.
At www.lcms.org/stewardship, pastors and congregational leaders will find all kinds of things to help them teach stewardship in a biblical manner. The "A-Z Stewardship Resource" collection includes everything from nuts and bolts advice for building a yearly stewardship emphasis to theological essays laying out the biblical case. The most popular resources are the devotional and educational pieces designed to keep stewardship in front of the congregation throughout the year: weekly devotional "blurbs" for the bulletin based on the lectionary readings, monthly newsletter articles and a monthly resource for stewardship leaders called StewardCAST.
Online resources are a big help in leading the congregation, but when it comes to training new leaders in the realm of stewardship, nothing beats face-to-face contact. Last spring, Stewardship Ministry held the National Stewardship Leadership Conference, and more such conferences are in the works. Pastors and lay leaders from across the country were introduced to Stewardship Ministry's approach and were challenged to be more intentional in teaching vocation, stewardship and sanctification in their own ministry settings. This fall, both Curtis and Meador will be speaking at district conferences and at a variety of other events. The focus is on teaching pastors how to bring the Word of God to bear on stewardship in a faithful and godly way.
"Christians who understand the great purpose for which God has called them," says Curtis, "become joyful, Gospel-motivated givers who see their local congregations for what they are: colonies of the kingdom of God."
And who wouldn't be excited about being part of the kingdom of God?
Learn more: www.lcms.org/stewardship
Pamela J. Nielsen is the associate executive director for LCMS Communications.
The Rev. H.R. Curtis is coordinator for LCMS Stewardship Ministry.