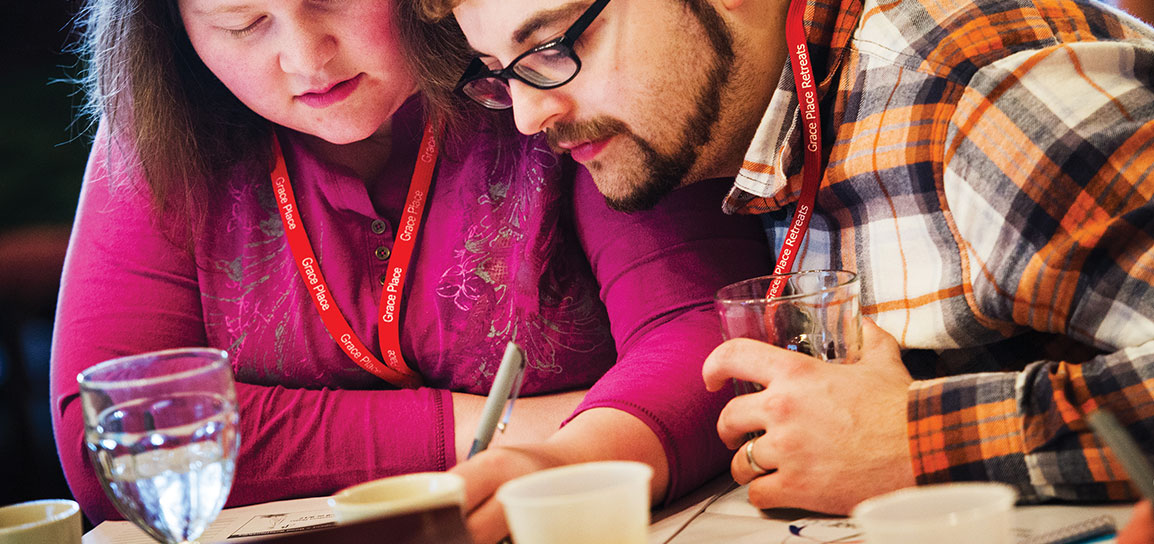 by Megan K. Mertz
Exhaustion. Ulcers. Depression. Obesity. Heart disease. Addiction.
Dr. John Eckrich, a physician with 35 years of experience treating LCMS church workers, knows that ministry burnout and chronic stress can take many forms in a person's life. But over time, the root cause affects the whole person, challenging the joy and longevity of his or her ministry.
To combat this, Eckrich held the first Grace Place retreat in 1999 as a way to help church workers achieve balance in their lives and renewed joy in their ministry.
Since then, Grace Place Lutheran Wellness Ministries, a Recognized Service Organization (RSO) of the LCMS, has held retreats around the country for some 7,000 LCMS church workers and their spouses.
A Top Priority
"We hear at our retreats from church worker spouses, especially pastors' wives, about how the family is paying a tremendous price for this ministry lifestyle," said the Rev. Dr. Darrell Zimmerman, vice-president and chief program officer of Grace Place. "I think church workers get caught up in this over-functioning lifestyle because they are very passionate about what they do."
"It's a calling from the Lord, so they take it very, very seriously," he continued.
But a pastor, deaconess, teacher or other church worker who is suffering often isn't able to serve to the best of his or her ability.
Promoting the spiritual, emotional and physical well-being of pastors and professional church workers is so important that it's even one of the Synod's six mission priorities. It's also the reason the Synod gives regular grants to Grace Place and other RSOs.
Last July at the 2013 LCMS convention, delegates passed Res. 3-11a, "To Support Church Workers," which, among other things, encourages the establishment of "worker wellness committees" to support the well-being of the congregation's church workers and their families.
Through its "Congregational Wellness Weekends," Grace Place encourages the creation of similar church worker support teams. The weekend seminars, which the organization started offering about three years ago, bring church staff and lay leaders together to learn how they can support wellness initiatives among members and church workers to improve the overall ministry of the congregation.
Grace Place also offers "Ministry Team Wellness Workshops," a program specifically geared for the staff of schools or other organizations.
In addition, the organization holds retreats around the world to encourage and refresh LCMS missionaries.
"Our goal and our mission is that the workers of The Lutheran Church—Missouri Synod — pastors, educators, musicians and others —would be at their healthiest so that they are better able to meet the needs of the people who depend on them," Zimmerman said.
Wellness in Every Sense of the Word
Through its programs for church workers, congregations and ministry teams, Grace Place teaches about the "Lutheran Wellness Wheel" as a way to address baptismal, spiritual, physical, intellectual, emotional, relational, vocational and financial well-being. Participants are encouraged to set goals to achieve a healthier, more balanced life, such as losing weight, planning for retirement, managing a chronic condition, or becoming a better spouse or parent.
The cornerstone of every retreat is at least four intentional "pause points" to be prayerfully in the Word.
"We want it to be clear that it is the power of the Holy Spirit leading us on this health and healing journey," said Eckrich, president and CEO of Grace Place. "It is Christ within us and not coming of our own doing."
Grace Place offers about 15 weeklong retreats for different types of church workers each year, in beautiful, relaxing settings around the United States. A church worker couple usually can attend one of these retreats for less than $250 because Grace Place underwrites nearly 85 percent of the total cost.
The RSO also helps future pastors establish healthy habits right from the start by holding abbreviated retreats for fourth-year students at both LCMS seminaries before they enter the parish.
"You can certainly treat the symptoms [of burnout] once they happen," Eckrich said, "but the real force of Grace Place is to teach people to manage aspects of their life in a preventive fashion so that they don't spiral down into difficulties."
"In this preventive model, we're trying to make sure that our church workers live the joy of ministry," he said. "Are they looking at the things they have to do as 'gettas' or 'gottas'? That's the cultural change that we are interested in."
Learn more: www.graceplacewellness.org
Megan K. Mertz is a staff writer for LCMS Communications.
Striking a Balance
Even during his seminary days, the Rev. Micah Greiner, senior pastor of St. Peter Lutheran Church in Arlington Heights, Ill., saw the importance of achieving balance and well-being in both his personal life and his ministry.
As a student at Concordia Seminary, St. Louis, in 2006, Greiner and his wife, Sarah, attended a Grace Place retreat for seminary students, where they were introduced to practices that would later serve them in the parish.
In 2012, Greiner attended another Grace Place retreat as part of his involvement in the Pastoral Leadership Institute.
"It gave me permission, when I was being approached to switch from associate to lead pastor, to say: I will not let this new ministry opportunity come at the cost of my family and my personal well-being," Greiner said. "If you find yourself exhausted and stressed out and working all hours of the day and night, you are putting yourself into an impossible situation that will eventually cause you to collapse."
These experiences spurred him to invite Grace Place to hold a "Congregational Wellness Weekend" at St. Peter in early January.
Greiner hopes that the weekend, which about 40 staff members and lay leaders attended, will create a team of people who are excited about effecting positive change in the congregation.
St. Peter's congregational leaders are now considering plans to encourage wellness among all staff members, including adding a fitness room to the facility and adjusting work schedules to accommodate concerns they heard from teachers.
"It forced us to say, we have these workers that are a great treasure entrusted to our ministry," Greiner said. "We should give significant care and concern to their well-being as we plan schedules and ministries."