"No one comes back from a war zone the same."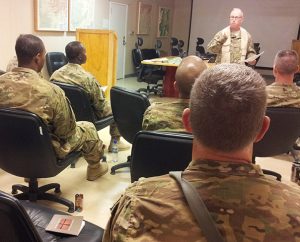 So says Chaplain Mark Schreiber, director of LCMS Ministry to the Armed Forces (MAF). That's why MAF is so important.
"Because of the last 12 years of war in Iraq and Afghanistan, the most difficult situation for our chaplains is being deployed to a war zone," he said. "The second most difficult situation is being deployed again to a war zone.
"A combat zone changes the way you look at life. It changes your feelings and attitude toward life."
To support the Synod's 170 Active, Reserve and National Guard chaplains who enter combat zones armed only with the Word of God, MAF provides training, support during crises and opportunities for continuing education. MAF also gathers chaplains at three pastoral conferences every year on the East Coast, West Coast, in Germany and, on occasion, in Japan.
Like 80 percent of all LCMS chaplains, Chaplain John Sedwick of the 130th Engineer Brigade is serving his second deployment.
Between 2006 and 2007, he spent 12 months in Kuwait. Now, he is serving another six or seven months in Afghanistan.
At one point during his current deployment, Sedwick supervised six battalion chaplains and their enlisted chaplain assistants, who were serving 3,500 soldiers.
Sedwick attended a MAF conference in Washington State in 2011, which he says helped him address some tough issues.
"We had the opportunity to speak about troubling issues facing military chaplains — including the clear and present danger that pornography causes to military families," Sedwick said. Other issues discussed at the conference included post-traumatic stress disorder, traumatic brain injury, suicide and readjustment to normal life after deployment.
But, he said, he was most impressed that LCMS President Rev. Dr. Matthew C. Harrison attended and "thanked us for our service."
MAF also sent Spanish hymnals and CDs from Concordia Publishing House to Sedwick during his current deployment. At a time when money for new purchases was scarce, MAF provided and shipped the necessary resources so that Sedwick could offer the Divine Service in Spanish every week to the men and women in the camp.
"The unique thing about serving as an LCMS chaplain in the Army is that I get the privilege to preach every week," he said. "I approach each counseling session with the training [and] framework of Law and Gospel."
Since the Civil War, LCMS pastors have served their country as military chaplains. The Synod's Ministry to the Armed Forces supports and serves all military chaplains, their families and the veteran population.
MAF also recruits, interviews and endorses all LCMS military chaplains and maintains close, pastoral relationships with chaplains after endorsement, offering counsel, training and advice throughout their entire careers.
Learn more: www.lcms.org/armedforces

Print page