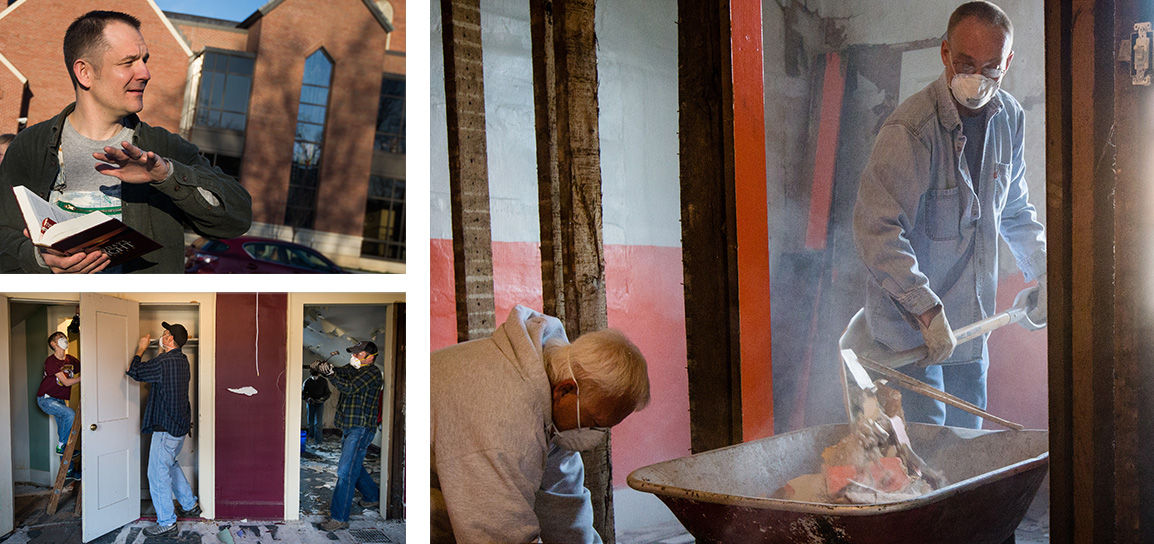 by Jeni Miller
In his explanation of the first article of the Creed, Martin Luther acknowledges that God not only creates His people, but that He also sustains them.
Sometimes He uses churches to do this work of revitalization.
Such is the case in Fort Wayne, Ind., where homes are being rehabilitated through a partnership between LCMS National Housing Support Corp. or Lutheran Housing Support or (LHS) and three local LCMS parishes — Redeemer, Emmanuel and Zion — who are located in urban downtown Fort Wayne.
The project focuses on providing critical home repairs to families in need. The congregations send volunteers and resources into the community to perform the needed repairs for as many as 10 families in surrounding neighborhoods. The goal is to halt the deterioration of neighborhoods, build connections between residents and service agencies and share the Gospel through acts of mercy.
"Revitalization is part of the Church's work of diakonia, works of mercy," said James Kienker, director of advancement for LHS. "We believe that we are individuals of body and soul — and you can't care for the soul without caring for the body as well. These revitalization and community development efforts are a piece of that, just like disaster relief and soup kitchens."
The Seeds That Started It All
LCMS President Matthew Harrison began the process of neighborhood revitalization near Zion Lutheran Church in Fort Wayne in the late 1990s as a parish pastor. That work was the precursor to today's joint revitalization efforts between Zion and a neighboring congregation, St. Peter's Catholic Church.
"The St. Peter/Zion Project has been going for many years, 15 or so," said the Rev. Douglas Punke, senior pastor of Zion. "In that time, the neighborhood has been transformed into a place where families can own their own homes and raise children, where one does not have to be afraid to walk around the neighborhood."
Meanwhile, a few miles away at Emmanuel Lutheran, church members called on the help of the LCMS as they hoped to reach out to their community in a big way. The "Planting Gospel Seeds" initiative, headed by the Rev. Carlos Hernandez, helps congregations enable their neighbors to break the cycles of poverty and struggle.
"In June of 2008, Emmanuel began efforts in neighborhood transformation with an initiative called 'Planting Gospel Seeds' in which Emmanuel members were trained and sent out into the neighborhood with the simple goals of establishing connections with our neighbors and getting their feedback on the key issues in the community," recalled the Rev. Thomas Eggold, senior pastor at Emmanuel. "This was an important catalyst for breaking down barriers that kept us from working in our neighborhood."
Similarly, the Rev. David Petersen, pastor at Redeemer Lutheran, and his congregation sought advice through the Gospel Seeds initiative, and Hernandez visited in September 2012 to help them plan and take action.
"It's been very good for us to canvass the neighborhood again and have an excuse to do that," explained Petersen. "We went out and said, 'We're from the church down the block and just want to know what you'd like to see in the neighborhood.' Most of their responses were human care type stuff. Some ideas were well-beyond what we or anyone could do, like offer free day care or a cure for Alzheimer's. But what we consistently heard was that they wanted ways to help improve the property values and make the neighborhood safer, as houses were falling into disrepair."
Coming Together
With the three churches on board, LHS was called in to walk through options and connect the churches with other agencies to enhance the process. LHS typically works by supporting the community development efforts of local LCMS congregations, districts, Recognized Service Organizations and their partners by providing access to funding, customized consulting services and training resources.
By working with Fort Wayne Office of Code Enforcement, the churches were able to identify those at-risk homes in their areas that were in violation of the city's building codes or had potential health or safety-related issues and whether those families were willing to participate.
According to Cindy Joyner, deputy director of Neighborhood Code Enforcement for the city of Fort Wayne, the effort will make quite the difference in these neighborhoods.
"Lutherans have always done so much for the community in my experience in Fort Wayne, so it wasn't a far out plan when [LHS] contacted me because of all the great things they've done already," said Joyner. "There are lots of property owners right now, more so than before, and a lot of people have come in to hard times and may not have money to do work on their homes. When a group like this comes in to do work to bring that [home] into compliance, it's a win for everyone: the neighborhood, the homeowner."
Due to the scope of the project, the churches needed volunteers who were skilled in home repair. Most of the rehab work on the homes will be carried out by LCEF Laborers For Christ (LFC), a group of retired, volunteer builders. The laborers will work with the assistance of volunteers provided by the LCMS churches and the community. A local construction manager will oversee the entire project. Since the Laborers come to Fort Wayne from all over the country, the City of Fort Wayne Parks and Recreation has agreed to partner with LHS in this endeavor by providing the Laborers with a place to park their RVs during the duration of the project.
"[The Fort Wayne project] is an awesome opportunity for the LCMS parishes to reach out and engage and connect with their surrounding neighborhoods," said Marcy Scholl, specialist for Laborers For Christ. "This initiative offers hands-on assistance to improve their homes. It is walking alongside the people and offering hope, just like Jesus did."
The project includes another helpful benefit to the families who will be served: financial management training provided through Lutheran Social Services of Indiana. This will provide them with the tools to save money and support their future home repair needs, ultimately strengthening their families and helping them become self-sustaining.
Now's the Time
"In these neighborhoods, especially recently, the communities are declining significantly because of the economic downturn," said Nicole Ridley, CEO of LHS. "This is an opportunity for the congregations to lend a hand and assist. There's so much potential there for them to be the catalyst for revitalization.
Joyner agrees that the moment is now, and the LCMS is well-positioned to step up to this kind of work.
"A lot of social agencies don't have the financial wherewithal anymore to sustain this kind of work," Joyner explained. "Something as in-depth as this program with [LHS], you don't see this anymore. These churches stepped up and this is what the community needs."
Why Revitalize?
"In this work, we're not just addressing a community need; we're building relationships," said Petersen. "It gives us something in common, and we're less scary to them. It humanizes us, roots us here in the neighborhood. This project helps to establish us in the minds of those in the neighborhood as a stable, reliable place. If our neighbors find themselves in spiritual crisis or have a need, they won't be afraid to reach out to us."
"This partnership also gives us an opportunity to get to know them, pray with them, share Christ with them," said Punke of Zion. "God places congregations in particular places with a particular context and with particular needs. Not every congregation may need to do work with housing, but surely there is some way that every congregation can make an impact [its] community."
This work is, Petersen says, the very "definition of mercy: to help people in need," and "There is real value in helping people."
LHS, together with the churches involved in this project, ask for prayers and support from those in the LCMS as the rehab phase of the project begins on June 1. To engage with them in this work, visit www.nationalhousingsupport.org or call James Kienker at (800) 248-1930 ext. 2823 for more information.
Learn More
Contact the Rev. Dr. Carlos Hernandez, director of LCMS Church and Community Engagement, at (314) 956-2005 or Carlos.Hernandez@lcms.org.
Explore other options for revitalization offered by the LCMS Office of National Mission:  check out www.lcms.org/revitializing.
Deaconess Jeni Miller is a freelance writer and member of Lutheran Church of the Ascension in Atlanta, Ga.