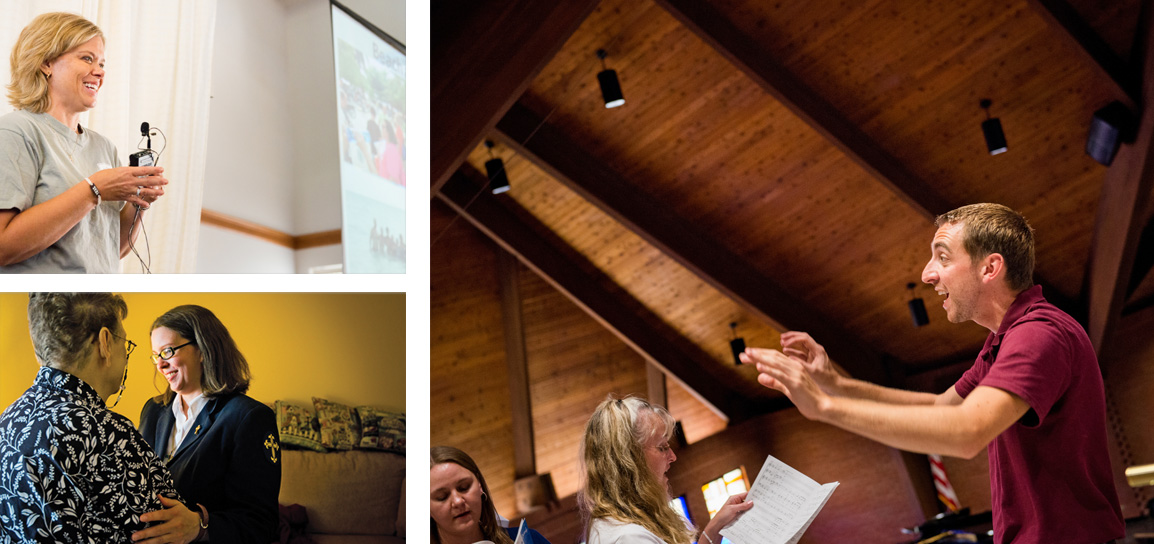 by Melanie Ave
"Take heart," he said.
Pastor Christopher Hull, 30, a passionate man with sandy-colored hair, stood before his congregation at Christ Lutheran Church in Normal, Ill., on a sunny Sabbath in July. He wore white and green vestments, a Bible at his fingertips.
His eyes scanned the 100 or so men, women and children — his sheep — scattered around the wooden pews before him.
For Hull, like many LCMS church workers, Sunday marks the high point of the week. To his left was the associate pastor, the Rev. Jonathan Huehn, 38, the day's celebrant who would administer the Sacraments. In front of him in the pews sat Director of Christian Education (DCE) Christy Malinowski, fresh off a youth mission trip to Haiti.
During the sermon, Hull's voice grew more intense. He had an important message to share.
"You who are scared that you aren't worthy of Jesus' love, take heart," Hull told the congregation, preaching from Matthew 5. "He has released you from prison, released you from your bondage of sin, death and the power of the devil. Jesus has done all things for us."
After Hull's sermon, Huehn — who was celebrating five years of ministry — led the congregation in prayer.
Church workers were at the top of his prayer list.
"Strengthen them in love for Your Word and instill in them Your truth," Huehn prayed. "Lord, in Your mercy."
"Hear our prayer," the congregation replied in unison.
Critical to the Church
What would the Church be without her workers?
Faithful church workers teach about the saving grace of Jesus Christ. They dedicate their lives to sharing God's love and serving Him through their vocations. They lead others and build up the body of Christ, helping fulfill the Great Commission.
Church workers are so important that their care — spiritually, emotionally and physically — is one of the Synod's mission priorities.
"In the church, there are many vital roles that have to be played," said LCMS President Rev. Dr. Matthew C. Harrison. "We need people who have skills to help the church function. Without them the church won't function at all. They put in unbelievable hours. They don't get paid very well compared to the going rates in most places. And they deserve our great thanks and our love."
The Lord's Calling
Christ Lutheran Church, a congregation of 350 regular worshipers in Normal, is blessed to have three rostered church workers in addition to other dedicated staff members.
The church has two pastors and one DCE, Malinowski. A deaconess intern starts soon to help visit the sick, hospitalized and homebound, among her other duties.
On a recent Sunday after the first service in the parish hall, Malinowski, a 42-year-old married mother of three, highlighted the Haiti mission trip she led in June. The trip took a year of planning and fundraising.
She showed photos and video from the trip in which eight youth and adults taught an English class and a weeklong computer course to young Haitians. They also helped with two vacation Bible schools (VBS), which drew about 550 children.
Some of the Haitian children only showed up for the snacks, but Malinowski said they received much more — the Gospel.
During VBS, the group led the children in singing "I Just Wanna Be a Sheep," and after one or two practices, the children had it memorized. "I just wanna be a child of God," they sang in Haitian Creole.
"It was an amazing experience," Malinowski said.
Baptized and confirmed at Christ Lutheran Church, Malinowski said she went about the DCE process "backwards." She was working as a retail store manager in 1995 when her pastor asked her to fill a temporary, part-time position with the youth after the former DCE took a call elsewhere.
"But the more I started doing this," Malinowski said, "the more I heard the Lord saying, 'This is what I want you to do.'"
So Malinowski applied for colloquy through Concordia University Chicago, River Forest, Ill., and started working full time at Christ in 1996. She completed her courses in 2001, when she received her official call.
She now oversees the church's youth ministry of about 60 teens, its Sunday school and children's ministry, and she also serves as an adviser to the preschool.
Her job is a joy.
"I think you just have to listen to the Lord's calling in your life," Malinowski said. "One of the ways I knew is that I loved this job. When you're truly doing what the Lord's called you to do and gifted you to do … it's just such a passion."
Serving as a Team
At Christ, Hull and Huehn split pastoral duties including preaching, visitations, Baptisms, weddings and funerals. They share the teaching of Bible studies and catechism classes for adults and youth.
The staff meets most Wednesday mornings. They start with a Bible study and end with prayer.
"It's not just us getting together to chitchat," said Hull, who is married with three children. "It's growing in the Word and, more importantly, being fed the Word."
Hull said he knew at age 11 that he wanted to be a pastor. He received his bachelor's degree in languages from Concordia University Chicago before getting his master's in divinity from Concordia Theological Seminary in Fort Wayne, Ind., from where Huehn also graduated.
Huehn, a pastor's son and married father of two, came to his calling after attending a Lutheran church while also exploring a nondenominational church in Minneapolis.
"I started to realize that what was taught at the nondenominational church wasn't the same as what I was taught in Luther's Small Catechism growing up," he said. "This was a huge eye-opener for me. I knew I was being led by God to become a pastor."
Huehn went back to school, receiving his undergraduate degree in pre-seminary studies at Concordia University, St. Paul in St. Paul, Minn.
Hull and Huehn stood side by side outside of the sanctuary on a recent Sunday, shaking hands and greeting members and visitors after church.
There is a "great weight" that comes with the Office of Holy Ministry, Huehn admitted.
"You are often carrying the burdens of so many people, their lives and the challenges they're facing, and thank goodness you are in the office of Christ," Huehn said. "You are giving forgiveness to them, giving them comfort, unburdening their consciences. It's such a blessing to be able to do that."
The two pastors greeted many people by name, asking about their children, their vacations, their health. Several welcomed Hull back from a recent trip to Madagascar, where he traveled to teach other Lutheran pastors.
"Thanks for your word today," said the Rev. Augie Lubkeman, shaking Hull's hand. He gave Hull a thumbs up as he walked out the front door into the sunny summer day.
What Is a Church Worker?
Professional, or "rostered, "church workers serve as pastors, teachers, directors of Christian outreach, directors of family life ministry, directors of parish music and lay ministers.
They have graduated from an authorized LCMS institution or have been colloquized. They have satisfactorily completed an approved educational program of the Synod to be ordained or commissioned. Rostered church workers must have been declared qualified for a first call; recommended by the faculty of one of the seminaries, colleges or universities of the Synod; and initially assigned by the Council of Presidents to "first calls."
For more information, review sections 2.6–2.9 of the 2013 Handbook of the Synod.
Melanie Ave is a staff writer and the social media coordinator for LCMS Communications.

Print page