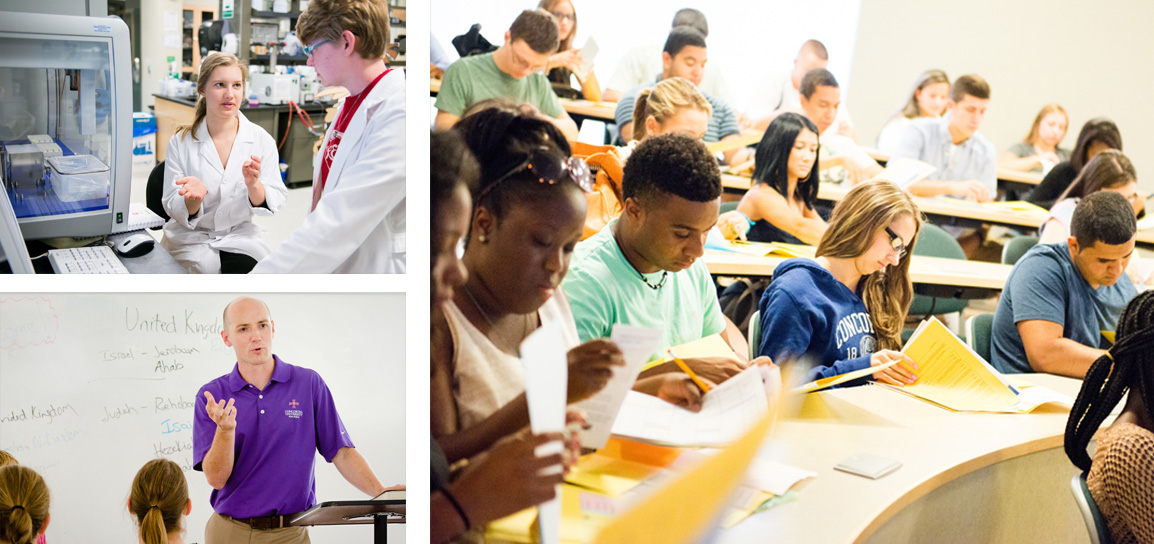 by Adriane Heins
Witness
The Rev. Anthony Dodgers loves Jesus, and he loves people. He loves caring for them and pronouncing Christ's forgiveness on them. In short, he just loves being a pastor.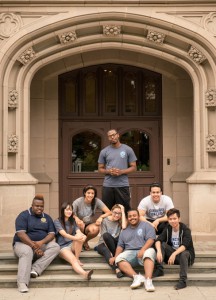 And he has Concordia University Chicago, in part, to thank. "It was during my time at Concordia that I really started to grapple with what it means to be a Lutheran," he recalls. "When I entered Concordia, I might have been a Lutheran in name, but by the time I left, I was a Lutheran by conviction."
There Dodgers heard, from his pastors and professors, God's unchanging Word. "The Word that meets us in the liturgy draws us out of our lives of toil, sin and sorrow and into His abiding forgiveness and peace," he says. "That same Word then pushes us back into our lives, full of His gifts, to serve our neighbors and our God."
Mercy
Lis Handgraaf is a paramedic in Wisconsin. She knows the inside of an ambulance like the back of her hand and doesn't blanch at the sight of blood. And there's one other thing: "I credit my interest and love of the medical field and my education to my teachers and mentors at Concordia University Wisconsin," she says.
Her time at Concordia "was God's gentle way of preparing me for what He had planned," she says, even the day that would earn her a Letter of Commendation, received for saving the life of a patient.
"The education I received from the athletic training courses [at Concordia University Wisconsin (CUW)] provided me with quick evaluation skills, knowledge and the action to get this patient to the Emergency Department for a medical issue that would have proven fatal," she explains.
Life Together
"I started Disc Store out of my college apartment my senior year at Concordia University, Nebraska," explains Chris Whirrett, Frisbee extraordinaire. "I believed I could improve upon the level of service and prices being offered at the time by online Frisbee vendors."
Whirrett's can-do attitude has paid off. With 14 employees and $3 million in 2014 sales, "what started out with one box of 75 discs has grown to a warehouse full of around 50,000 discs," he says.
From business courses to Web design, Whirrett's Concordia University, Nebraska (CUNE) education emboldened his entrepreneurial spirit and "helped reinforce Christian values of service toward others, which is the foundation of my business."
In fact, he says, "a large part of our fast growth can be attributed to our dedication of service to our customers."
God's Creation
The Concordia University System (CUS) produces a different kind of student than most colleges and universities — one who finds genuine value in caring for God's children in Witness, Mercy, Life Together, just like Dodgers, Handgraaf and Whirrett.
That understanding — a person's inherent worth by virtue of his Creator — is the backbone of a CUS education. "Human beings are God's creation. They're significant. They're the objects of His affection and redemptive love in Christ. This stands in contrast to the prevailing views in higher education that men and women are simply material and transitory beings," explains the Rev. Dr. Dean Wenthe, president of the CUS.
That's why, at CUS schools, within classrooms and chapels, dorm rooms and cafeterias, graduates learn to care for their neighbor, preparing "for lives of consecrated and meaningful service in their families, churches, communities and places of employment — serving the Lord Jesus by serving others," agrees the Rev. Dr. Patrick Ferry, president of CUW. "We are proud of Concordia students and graduates who, each day in places near and far away, live out their vocations, making a difference in the lives of others and glorifying the Lord."
Being Countercultural
But viewing the world through a uniquely Lutheran lens isn't easy in a culture often hostile to the Gospel. "The key challenge is to maintain a clear Lutheran identity not only in terms of … lives that are lived on campuses, but that the faculty and staff are daily in an environment that shows the truth of the Lutheran solas — faith alone, grace alone, Scripture," Wenthe explains. "That's counter-cultural and requires our continual attention."
The Rev. Brian Friedrich, president of CUNE, confirms it: "At the heart of a Concordia education is the uncompromising confession of Jesus Christ, the one and only Savior of the world, as revealed in the Holy Scriptures and explicated in the Lutheran Confessions."
This firm footing affords Concordia students "the opportunity to grow in faith and Christian living, to embrace the doctrine of Christian vocation and to be equipped to serve and lead as God guides, directs and calls them in His Church and world," he explains.
That focus binds the colleges and universities in the CUS together, causing them to share "a common commitment to the Gospel mission of the Church and the values and evangelical tradition of the LCMS," explains the Rev. Dr. Tilahun Mendedo, president of Concordia College Alabama. "A Concordia education provides each student with an excellent education informed by and infused with the timeless and unchanging truth of Scripture," creating, he says, "an education for time and eternity."
Time for Witness, Mercy, Life Together
"There is no time like the present for our church to wave boldly the banner of her colleges and universities," Friedrich says. Dodgers, Handgraaf and Whirrett are proof he's right.
Watching such graduates flourish in Witness, Mercy, Life Together is helpful in recommitting the work of the CUS, Wenthe believes, "to stand in solidarity with the witness of sacred Scriptures and the Lutheran Confessions: that Jesus Christ, true God and true man, is the only way to God's grace and mercy; that God created everything from nothing; that marriage is a gift from God between a man and a woman; and that life is sacred — from conception to natural death — over and against the idea that humans are material and transitory beings."
And 50 years from now? What of the CUS then?
In a culture that "has lost its moral compass, which appeals only to the momentary and fleeting," Wenthe notes, "the CUS [schools] will stand out for their love of the Triune God, their love of His mercy in Christ."
"As St. Paul says in the first chapter of Colossians, 'Christ holds all things together,' " he recalls. "So whether it's history, philosophy, chemistry or anatomy, all knowledge is ordered around God's mercy and grace in Christ, who has given us His wonderful salvation by grace alone, faith alone and according to Scripture alone."
Especially when it comes to pastors, paramedics … and even Frisbees.