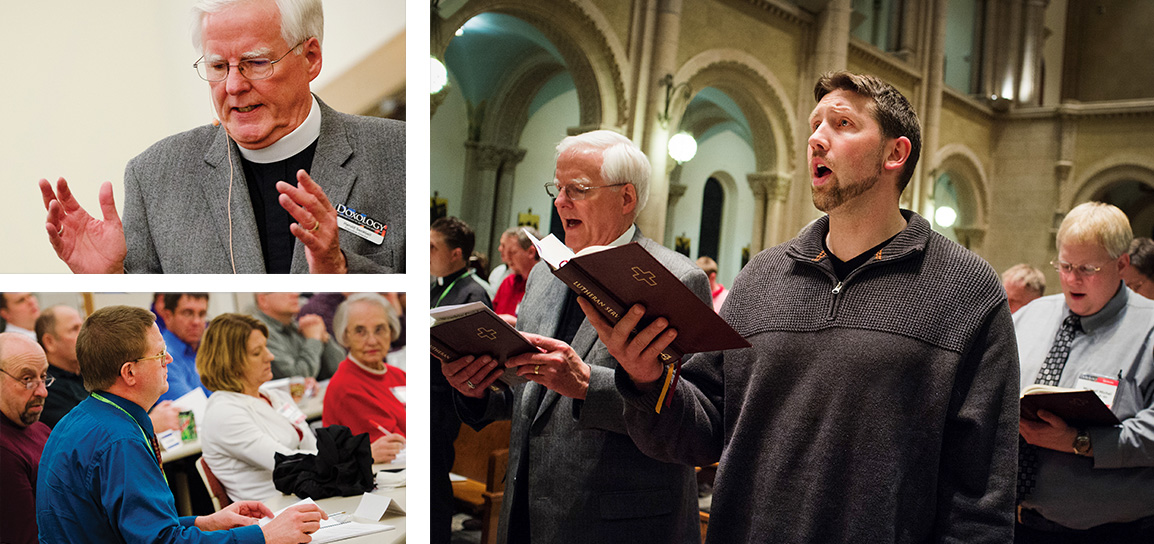 by Erik M. Lunsford
As daylight faded on a chilly February Friday evening, about 60 people filled a room at the Chiara Center in Springfield, Ill. The group gathered as part of DOXOLOGY, The Lutheran Center for Spiritual Care and Counsel.
After short pleasantries, Dr. Beverly Yahnke, executive director for Christian counseling at DOXOLOGY and chairwoman of the Department of Social Sciences and psychology professor at Concordia University Wisconsin, Mequon, Wis., rang a large cowbell.
The sound moved slowly in the room, ushering everyone to their seats.
It's not the first time the bell has been rung, and it won't be the last. In the six years since DOXOLOGY was founded, about 700 pastors have been served at the center that provides 16 days of intensive study throughout a yearlong program aimed at refreshing and renewing pastors, spouses and lay leaders.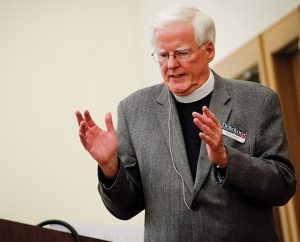 In December 1998, a group of counselors, pastors and theologians met at Elm Grove Evangelical Lutheran Church in Elm Grove, Wis. It was the beginning of four years of collaborative consultations exploring the "collected wisdom of biblical, historical and pastoral theology regarding the nature of the soul and its cure in the context of the insights of contemporary Christian psychology," according to a DOXOLOGY history document.
The Rev. Dr. Harold Senkbeil, executive director for spiritual care at DOXOLOGY, said pastors in the early church were the "spiritual physicians." They diagnosed and treated afflictions in their flock, relying on the tools of the Gospel and Sacraments to relieve the sickness of a broken world. "This is what we need in our mission today as we bring refugees from our broken world into Christ's Church."
It was along these same lines that DOXOLOGY was created.
"In many ways, DOXOLOGY is nothing new, but therein lies its great strength, because it brings a body of knowledge that belongs to the heritage of pastoral care into the contemporary scene," Senkbeil said.
In 2006, DOXOLOGY was formed as a nonprofit organization and granted Recognized Service Organization status with the LCMS. By 2008, DOXOLOGY began its first sessions.
DOXOLOGY, which takes its name from a hymn used to praise God, brings pastors and their spouses and lay leaders for three gatherings over a year's time.
The first meeting, called "The Gathering," focuses on renewal for pastors. The second part, "The Encore," equips pastors and their lay leaders with people skills for the parish. The third and final part, "The Reunion," brings pastors and their spouses together.
On a recent Friday, participants gathered for the second aspect of DOXOLOGY's program, the Encore.
In the audience was the Rev. Timothy Mueller of Saint John Lutheran Church in New Minden, Ill., and St. Luke's Lutheran Church in Covington, Ill.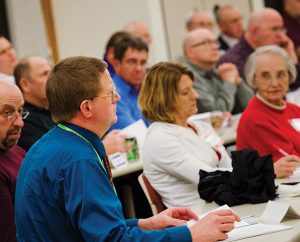 His visit to DOXOLOGY was punctuated by the nearly two-dozen tornadoes that plowed through Illinois in November 2013, killing a total of seven people and severely damaging his church in New Minden. He has toiled through months of rebuilding.
Mueller's congregations sent him to DOXOLOGY as a gift for his 25 years of service.
"It's great," said Mueller, "because for one thing, it's a place … where I don't have to use the 'T' word, the tornado."
"It's nice to step back from that and retreat so to speak and get away and be refreshed."
The schedule at DOXOLOGY is packed with activities.
"It's not a restful time where you just lollygag around," Mueller said. "I like to say at DOXOLOGY I've heard not always what I want to hear, but always what I need to hear. On some things we need to challenge and examine ourselves in our need to grow."
In an online video, LCMS President Rev. Dr. Matthew C. Harrison, who praised DOXOLOGY, said, "When we have laborers in the field, the best thing to do is to keep them in the field and make them even better laborers."
It's a sentiment both Senkbeil and Yahnke share.
Worker wellness, in fact, is a priority of the LCMS.
Senkbeil said DOXOLOGY plays a key role in making sure pastors are "well cared for."
"When pastors are better pastors and more confident in pastoral work, then congregations are benefited and more able to advance the mission of the church," he said. "So it's not looking inward, but instead looking outward."
Late in the evening, the group gathered for evening prayer.
The Rev. Dr. Lucas Woodford, senior pastor at Zion Lutheran Church in Mayer, Minn., stood next to Senkbeil and sang during worship time.
"DOXOLOGY is infatuated with the care of souls, especially pastors," Woodford said. "It has been a powerful encourager to me amid the challenges of pastoral ministry and an invaluable tool in making me a better pastor, husband and father."
DOXOLOGY is now being asked to expand its reach internationally.
Senkbeil and Yahnke recently returned from South Africa. They have already ventured out to Australia and plan to work in the Baltics.
As he thinks back on the history of DOXOLOGY, Senkbeil said he's "deeply humbled and deeply grateful.
"It's an amazing thing to see what God is doing through this," Senkbeil said. God is "having a hand in strengthening the soldiers of the cross to serve Christ's flock. It's very gratifying work."
Learn more: www.doxology.us
 Erik M. Lunsford is the staff photojournalist and an editor in LCMS Communications.

Print page