by Megan K. Mertz
"I can't live without Jesus. That's insanity. He's just built into my heart," says 14-year-old Briana McQuay, who graduated from eighth grade at Mount Calvary Lutheran School in Milwaukee, Wis., in June.
During her third-grade year, Briana transferred to Mount Calvary, the 89-year-old ministry of an LCMS congregation in the urban Sherman Park neighborhood. At that time, Briana says she did not have a personal relationship with Jesus, even though she was raised in a Christian home. She knew who Jesus was, but she did not understand what He did for her until she learned more about Him in chapel and religion classes at Mount Calvary.
Prior to coming to Mount Calvary, Briana attended an urban public school, where she witnessed crowded classes, student fights and distracted teachers, who were often busy handling discipline problems.
But thanks to a voucher program in Milwaukee that pays tuition at private schools for low-income families, Briana and her two siblings were able to receive a Christian education at Mount Calvary.
About 98 percent of Mount Calvary's 196 students attend the school because of the voucher program. Most students live within a 2-mile area that includes African-American, Hmong and Jewish communities.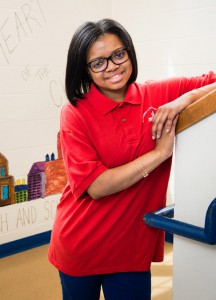 Supporting Students
Principal Carrie Miller says that the program is a blessing for many of Mount Calvary's school families.
But as with any urban ministry, the school faces certain challenges because of its setting. Some of the students that come through its doors are dealing with the effects of family violence, substance abuse, incarcerated family members and other trauma. Others struggle with basic needs of food, safety and shelter.
"Mount Calvary made a very conscious decision in the '70s, when other churches were moving into the suburbs, to remain in the city and to do ministry to whomever God provided in this environment," Miller says.
To better serve the needs of its students, Mount Calvary started a special education resource room through Lutheran Special School and Education Services, a Recognized Service Organization of the LCMS, about seven years ago to help students with learning disabilities, ADHD or those who are behind academically. Through this program, Briana was able to catch up in reading.
Miller says that Mount Calvary is one of only a few Lutheran schools in the Milwaukee area to provide a special education program — and that program is usually filled to capacity.
About 10 years ago, Mount Calvary added a full-time social worker to provide classroom instruction on topics like handling emotions and developing problem-solving skills. The social worker also provides free professional counseling to children struggling with different challenges.
"We help kids build the tools they need to rise above negative circumstances so that they can follow the path God has for them in a positive and productive way," Miller says. "We tell students that there's nothing that can keep them from getting an education and we are here to support them as they pursue their goals."
Most importantly, she says, the school teaches children about the love of Jesus Christ. Half of Mount Calvary's students have no faith background when they arrive at the school.
"Every single year, there are kids who, whether they are 4 or 14, are hearing the Christmas story or the Easter story for the very first time," Miller says. "From there, the kids ask a lot of questions and the Holy Spirit is working all the time."
Supporting Schools
Mount Calvary is one of 2,255 Lutheran early childhood centers, elementary schools and high schools in the United States that are supported by LCMS School Ministry. The ministry seeks to recruit and train the next generation of Lutheran school administrators, to share best practices and to help schools navigate the ever-changing world of public policy.
For school leaders, LCMS School Ministry offers more than 70 webinars — on everything from using technology to church-school unity — on the Lutheran School Portal (https://luthed.org) to share the best practices of the Synod's top schools.
Above all, LCMS School Ministry seeks to help schools serve students better so they have more opportunities to share the Gospel. It does this through the National Lutheran School Accreditation process; Lutheran Schools Consulting Services (formerly known as Strengthening Schools and Congregations), which uses experienced Lutheran school leaders as consultants in struggling schools; and the School Leadership Development Project (SLED), which identifies and equips new Lutheran school administrators.
Terry Schmidt, director of LCMS School Ministry, thinks SLED is vital to the future of Lutheran schools, especially when considering that 40 percent of Lutheran school administrators will retire in the next five years.
Miller, who came to Mount Calvary 18 years ago as a fourth-grade teacher, participated in SLED. She now serves as a mentor, helping to prepare future Lutheran school leaders.
In addition to these LCMS School Ministry programs, Schmidt says he is committed to enhancing partnerships with homeschools and community businesses, as well as exploring blended learning and other educational alternatives.
"In 20 years, school is not going to look like it does today. And we want to be on the front end of that," he says. "Lutheran schools are our future."
A Haven for Learning
For Briana, Mount Calvary Lutheran School was a safe place where she could learn and grow. While there, Briana participated in volleyball, track and theater. She also learned to love science.
This fall, Briana will continue her education at Milwaukee Lutheran High School. She hopes to be a pediatric nurse in the future.
"Briana said she's gained confidence," Miller says, "confidence in trying out for things, confidence in herself and confidence in what she believes.
"I love seeing how God works in the lives of students that the world assumes won't be successful. It's a wild passion of mine to really watch how God works."
LCMS School Ministry Stats
Total number of Lutheran schools: 2,255

Early childhood centers: 1,285
Elementary schools: 880
High schools: 90

Total number of students: 221,302
Total number of teachers: 21,256
Baptisms in Lutheran schools in the 2013-14 school year: 2,812
Statistics compiled from numbers submitted by Lutheran schools, along with information obtained from LCMS districts and LCMS Rosters and Statistics. These figures reflect a 60 percent response rate.
Learn more: