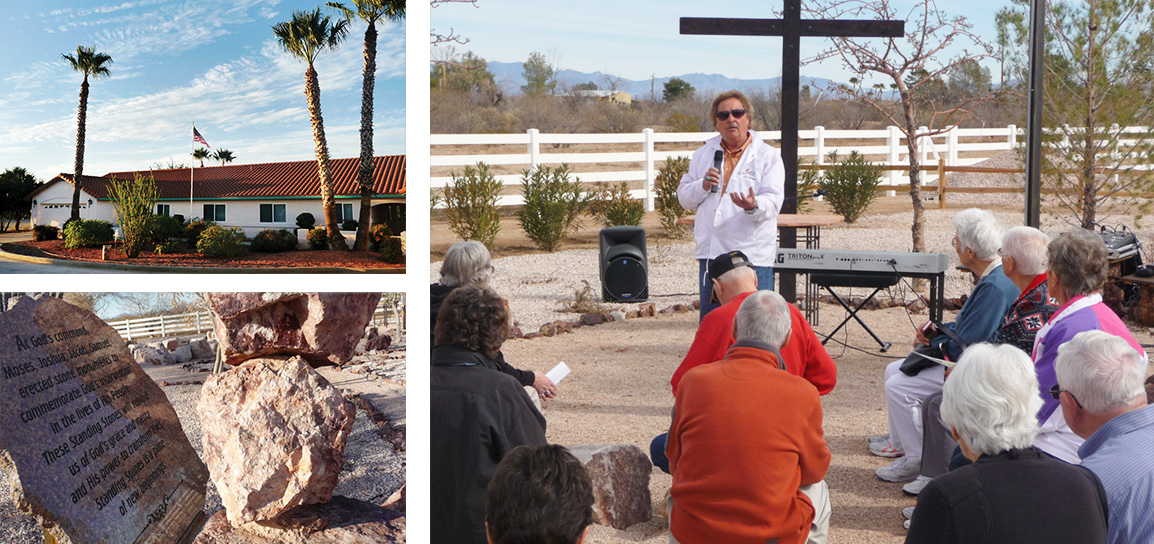 by Melanie Ave
The pastor felt like David facing Goliath.
For about four years, the pastor, who is in his 60s, says he allowed a church leader to verbally, spiritually and emotionally abuse him. The man did not appreciate the pastor's servant-style leadership.
It got so bad, the pastor says, he dreaded Sunday mornings, knowing he would have to face the man and his family. His faith in Jesus waivered.
The stress played out in the pastor's health. He ended up hospitalized three times in two years. He thought about suicide. His doctor increased his anti-depressant dosage and prescribed a three-month rest.
"I felt so stuck, helpless and hopeless," says the pastor, whose name is being withheld to protect his privacy.
And then, just as the situation peaked, an email landed in his inbox.
It was from Dave Anderson, founder of Shepherd's Canyon Retreat, inviting him to the retreat center.
It was a mass message, sent to LCMS pastors nationwide.
But to the pastor it was "the hand of God."
'A Dirty Little Secret'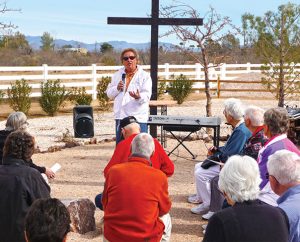 The stresses of ministry and church work, while seldom discussed, are quite common, says Anderson, the son of a Lutheran pastor who had been driven from a church when Anderson was a ninth-grader. It was the first time Anderson ever saw his father cry.
According to H.B. London Jr. and Dr. Neil B. Wiseman's book, Pastors at Greater Risk, pastors are working harder in a world that is increasingly corrupt.
"This struggle takes a terrible toll, as pastors wrestle with crammed calendars, hectic homes, splintered dreams, starved intimacy and shriveled purpose," they write. "Some quit in utter hopelessness."
Anderson says statistics indicate that 20 percent of pastors are in crisis.
He says God opened the door for a ministry that would help hurting pastors and other professional church workers, something dear to his heart. In January 2009, he founded Shepherd's Canyon Retreat, a place for church workers in need of emotional and spiritual healing in a therapeutic setting. A previous attempt at a similar ministry was put on hold.
Retreats were held at three centers in Wisconsin, Florida and Arizona until 2012, when retreats began at the ministry's new home base, Standing Stones in Wickenburg, Ariz. Retreats are now held in a peaceful setting in the high desert. The center features a swimming pool, spa, outdoor chapel and prayer garden.
With loans from the Lutheran Church Extension Fund, Shepherd's Canyon is in the midst of a capital campaign to purchase Standing Stones and build new accommodations.
Shepherd's Canyon became a Recognized Service Organization (RSO) of the LCMS in May 2013, a few months before the LCMS convention adopted nurturing church workers as one of the Synod's six chief mission priorities.
The Rev. Bart Day, executive director of the LCMS Office of National Mission, says now is the time for the church to stand up and recognize that many of its workers are hurting and needing care.
The LCMS contributed $62,350 to Shepherd's Canyon in 2013. That amount is a small part of the $850,000 the Synod gives for supplemental funding for worker wellness each year.
"The reality is, a lot of church workers fall into a bad place while they're trying to fix and help everybody else," Day says. "They're actually allowing their own life to crumble apart.
"It is a dirty little secret, there's no doubt about that," he says. "We have church workers that are hurt and harmed needing help. They're addicts, whether that's pornography, alcohol or drugs. We have domestic violence inside church worker homes.
"If we are going to be serious about having healthy congregations and healthy schools, until the workers are healthy, none of the rest of it is going to come along. Workers that are not being taken care of can destroy congregations and schools. You hate to say it, but it's true."
'A Place for the Broken'
Shepherd's Canyon provides weeklong confidential counseling retreats to full-time Lutheran church workers (and those from other denominations) in the midst of burnout, stress, depression, compassion fatigue, conflicts of all kinds and, sometimes, moral failures.
More than 200 people have attended 33 retreats at Shepherd's Canyon since the center's founding. Church workers have come from about 30 states, including Oregon, Wisconsin, Maryland, Florida and Oklahoma.
Pastors, teachers, directors of Christian education, deaconesses, chaplains, missionaries and music ministers have spent time at Shepherd's Canyon.
"Three pastors that have come to our retreats were on the brink of taking their own lives," says Anderson, a church musician who for years has held concerts in churches nationwide with his wife. "I know a couple of dramatic stories, including one who had even planned how he was going to do it."
Spouses are encouraged to attend and be a part of the retreat.
Dr. Patti Brunold, a pastor's wife and psychologist, says spouses need as much encouragement as the workers themselves.
"When a pastor is having trouble in his church, it can affect the marriage," says Brunold, who has helped clients at more than 20 retreats in the last four years. "Whether we like it or not, we are part of the ministry. We hear the comments.
"We hear our husbands come home depressed or frustrated."
Brunold says many pastors come to the retreats with a lot of hurt and little self-esteem.
"There's a sense with a lot of them that nobody loves them anymore, that God doesn't love them anymore," she says. "One of the things we do is love on them a lot."
A maximum of eight people attend any given retreat.
They receive 30 hours of individual, couple and group counseling. Time also is provided for reflection, reading, resting and exercise. A chaplain is available at all retreats.
Eight retreats have been scheduled for 2014.
Attendance, Anderson says, is confidential unless the client chooses to let others know.
Brunold says the retreats integrate the spiritual with the psychological.
"You can have the psychology but I believe God does the healing," says Brunold, who has a private practice in Whittier, Calif. "God meets us there every time."
Another pastor, whose name also is being withheld, went to Shepherd's Canyon while he was in the midst of being driven from his congregation by a small group of people. He suffered panic attacks.
Even though he ended up leaving the congregation, the pastor of 17 years says he benefited greatly from the retreat.
"Spending several hours during the week with a counselor one-on-one was the highlight of the week for me," he says. "These sessions provided a safe place for me to talk and to work with and get input from a trained counselor."
The pastor — now serving in a "wonderful parish" — says he was blessed by the Gospel-centered devotions and the other pastors who were there.
"It was good to know that I wasn't the only one hurting," he says. He called Shepherd's Canyon "a place for the broken to come and be healed."
A third pastor, whose name also is being withheld, says he attended Shepherd's Canyon after feeling burned out after a difficult first call, followed by an exhausting two years leading a very active congregation of about 300. He served as the congregation's sole pastor after the senior pastor stepped down.
"I hit the wall," he says, describing the marital tension, fatigue and depression he endured. "I wasn't sure I was going to be able to continue in the ministry."
Some people who have attended Shepherd's Canyon describe it as a year's worth of counseling in a week, to which the pastor agrees.
The pastor says the retreat was not a "magic cure" for him and his wife, but it "put some fresh light and perspective on situations. It gave us the opportunity to come back and press on."
The cost to attend Shepherd's Canyon is $3,000 per couple or $2,500 per individual. Anderson says scholarships are available. The cost includes counseling, meals and accommodations.
When they return home, church workers are encouraged to stay in touch with their counselors, get into counseling, become involved in their communities and make friends.
"The church has a reputation of shooting the wounded," Anderson says. "What our ministry wants to do is love wounded people."
At the Foot of the Cross
After getting the Shepherd's Canyon email from Anderson, the pastor who felt like David facing Goliath went to his board of elders and confessed to them that he was sick and needed a break. He told them he and his wife wanted to attend the retreat center, which he offered to pay for out of his own pocket.
"Without any discussion they said, 'Yeah, we'll pay for it. Don't worry about it,'" he recalls. "I just had all sorts of prayerful hopes."
While at the retreat, the pastor says he attended Bible studies, group talks and counseling sessions. He says his concerns were heard, he was affirmed and he was guided "with very solid biblical wisdom. All of this was God's doing."
When he returned home, the counselor helped him have the strength to meet with the man in his congregation — the Goliath in his life — and "speak the truth in love," the pastor says.
The man eventually left the church.
The pastor calls it a sad situation, one in which he feels only forgiveness. He is still hoping for reconciliation.
He compares the strength he found through Shepherd's Canyon to the Scripture passage where Aaron holds up Moses' weakened arms.
"I could not do it on my own," the pastor says. "They gave me lots of tools to deal with this situation. The Lord worked through Shepherd's Canyon to help bring this to a very peaceful, final resolution."
He encourages other pastors who are struggling to seek help.
"Even Jesus got away to rest," he says. "As pastors, we especially need that."
At the end of retreats at Shepherd's Canyon, church workers are encouraged to write their burdens on river rocks in a symbolic release of the pain they are suffering.
And instead of throwing the rocks, they are asked to place them in the prayer garden, at the foot of a cross.
Learn more: www.shepherdscanyonretreat.com