by Adriane Heins
"Que creen los Luteranos?"
It's a question the Rev. Dr. Carlos Hernandez, director of LCMS Hispanic Ministry, delights to hear. "What do Lutherans believe?"
It's also a question the Church is primed to answer, says the Rev. Dr. Matthew C. Harrison, president of the LCMS. "We exist to bear witness."
The Lutheran Church's "fundamental gift and task," he continues, is to proclaim boldly "salvation by grace alone, through faith alone, on account of Christ," and it's a gift the LCMS rejoices to engage in, especially when it comes to the prayers and offerings of Lutherans committed to bold witness through LCMS Hispanic and Black Ministries.
LCMS Hispanic Ministry: Opening Doors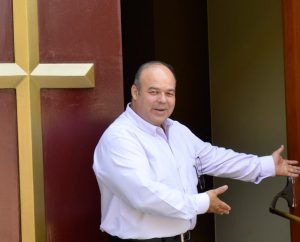 Hernandez, who became a pastor due to the witness of LCMS members who funded his Lutheran education from first through twelfth grade, today tells others of Christ's saving work in a big way while engaging congregations across the United States that are "requesting our consultation and training in witnessing to the Gospel, beginning with ministries of mercy such as English-as-a-Second-Language (ESL) classes, academic tutoring, health screenings and immigration counseling," he notes.
The Rev. Eloy Gonzalez, senior pastor at Our Redeemer Lutheran Church, Irving, Texas, is doing the same thing. Bold witness in the Hispanic community is "highly relational, that is, people intensive," he explains.
His congregation uses gathering activities "that allow us to gather people around a common interest or a common need" to bear witness to Christ. Through events like ESL classes or soccer programs, "we have been able to invite people to church, have been privileged to do many Baptisms and have prepared numerous children through First Communion instruction," he says. "We see families that we meet this way integrate themselves into the congregational worship services offered by the congregation."
Through these various resources, Hernandez explains, "The Holy Spirit opens doors for a spoken witness of the Gospel as we are often asked, 'Que creen los Luteranos?'"
Answering that question gives Hernandez, Gonzalez and other Lutherans engaged in Hispanic ministry the opportunity to speak of Christ's cross and tomb, sharing His comfort and forgiveness while constantly praying about one particular question: "How do you reach them with the Gospel? That's one of the burning questions among us in the LCMS as well: How to reach second- and third-generation Latinos?"
To answer that question, Hernandez returns to what his Lutheran education taught him: that all people — whether Hispanic or black, white or Asian — are sinners in need of a Savior. That realization makes bearing witness to Christ in Hispanic communities, he says, no different from doing so in any other community.
That means Hernandez sees any challenges the church does face — like "trying to learn the particular culture, language and, perhaps more important, understanding, identifying and facing the critical, burning issues in Latino communities, such as undocumented immigration" — simply as inroads to be bold in sharing Christ's peace within the Hispanic community.
Hernandez recalls one such witness moment: "A conservative, Midwestern congregation raised funds to assist an undocumented Latino immigrant married to a Lutheran to assist with legal fees required for securing residency papers." The LCMS matched the congregation's dollars, "joining hands to share mercy and to open the door wide for witness." Seeing that witness in action, he says, "amazed me."
It's no surprise. Confessing Christ, Harrison says, is the Church's "sacred vocation and ecumenical task," astounding in and of itself.
LCMS Black Ministry: Connecting People to Christ
"After-school tutorial, mentoring and feeding programs. Lutheran day school programs. Food and clothing bank programs. Summer VBS and sports camp programs. Senior day out care programs." The Rev. Roosevelt Gray Jr. has only begun to list a few of the ways in which LCMS Black Ministry, which he directs, is bearing witness to Christ. "Community youth music programs. Home ownership programs. 'Gospel Seeds' outreach programs."
And that's just a start. Advancing any of these projects — through prayers and gifts — is welcomed in black communities.
Each of these key witness activities chips away at struggles faced around the United States, like "reaching the Gen X, millennial and emerging adult generation and using today's technology to communicate Christ," Gray notes. Additionally, the country's "declining urban and city economies, unemployment and homeless situation, and poor and undereducated children in our cities" all provide opportunities for the church to come alongside with the change and comfort Christ's Gospel brings to sinners in need of a Savior.
That is LCMS Black Ministry's sweet spot, providing encouragement to people and their pastors, says the Rev. Chris Stout, pastor of Mount Calvary Lutheran Church, Kannapolis, N.C., and Abundant Life Lutheran Church, Charlotte, N.C. "Too often, we Christians can feel isolated in our battle against the world, our flesh and Satan. … LCMS Black Ministry encourages all to confess that we are not a person of God, alone in our battle, nor are we people of a small congregation, but we are a people of God."
Challenges faced by black communities always find their answers in Christ, Stout says. "There seems to be a consistent decline in the family in every aspect of American culture. The lack of parental involvement, most noticeably the lack of strong fatherly involvement, is harmful to children, grandchildren, grandparents and the church alike."
And yet the Lord always blesses. "This challenge," he explains, "has provided an amazing opportunity to teach many of our young and teenage children the truth about the Father our Lord is and the gift that the crucified, risen and ascended Lord Jesus has given in His Church, which is called the household of God. We gather together to hear from and pray to 'our Father,' who promises never to leave us or forsake us, to rejoice in our repentance and returning to Him, and who gives us common brothers and sisters with whom to suffer and rejoice."
This kind of witness to God's gracious care toward His people emboldens pastors and parishioners to confident prayer, trusting that the Lord will make good on His promises. And Gray believes that He will, encouraging members of the LCMS to bear witness by praying for "congregations and leaders in LCMS Black Ministry to be courageous, creative and innovative in serving their communities with the Good News of the Gospel as LCMS Christians" while remaining confident that He will answer.
'Fundamental Gift and Task'
The witness of both ministries is simple: Christ died to save sinners. That truth makes boldly sharing His words of life and salvation — especially through the opportunities afforded by LCMS Black and Hispanic Ministries — a hearty witness to God's work among His people.
"This is our task toward each other," Harrison explains. "This is our task over against those who do not know Jesus."
So, "Que creen los Luteranos?"
Thanks be to God, we have an answer, Harrison says: "To bear witness to Jesus Christ."