by Melanie Ave 
Donors like Ron and Evelyn Harman and Kelly and Cheryl Keithly are vital to the national and international witness and mercy work of The Lutheran Church—Missouri Synod (LCMS).
But the way the two couples support the church's work is quite different.
The Harmans directly support three LCMS career missionaries who are based in different parts of the world.
The Keithlys regularly give to the LCMS Global Mission Fund, which supports the Synod's Gospel proclamation, disaster response and human care activities. Global Mission Funds are distributed where they are needed most, nationally and internationally.
"Every donor brings a unique, distinctive blessing to our work," said Mark Hofman, executive director of LCMS Mission Advancement. "Both those who desire a deep personal connection to the missionaries doing the work and those who are willing to let the LCMS determine where their gift is most needed out in the field are equally treasured.
"What our donors all share is a deep love of Jesus and a passion for sharing the Gospel with the world, combined with the immense trust of a heavenly Father who provides for their every need. Together they take action as the body of Christ to bring hope and healing to those who are lost, weak or new in the faith."
Here's what the Harmans and the Keithlys have to say about why they give the way they do.
Ron, 81, and Evelyn, 79, Harman live in Phoenix and have been supporting LCMS missionaries for about a decade.
Each month they write checks to the LCMS that directly support Shara Cunningham, who serves in Kenya; the Rev. Stephen and Maggie Oliver, who serve in the Asia Pacific Region; and another missionary family.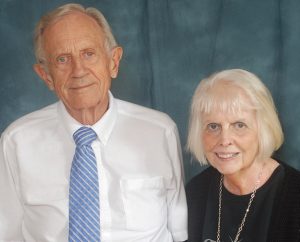 For Ron Harman, a retired Lutheran school teacher, the motivation behind his support of missionaries is simple.
"They're doing what the Church ought to be doing," he said. "According to the Great Commission, that is No. 1."
The LCMS trains, sends and supports called and appointed career, long-term and short-term missionaries worldwide where there are mission stations, partner churches, schools or mission relationships.
Because missionaries must raise 100 percent of the funds necessary to support their overseas work, they need individual — and congregational — supporters like the Harmans, who have been married 56 years and have four children and 15 grandchildren.
"Nothing is more important than sending missionaries out into the world," said the Rev. Edward Grimenstein, director of Missionary Services for the LCMS. "This is one reason why the LCMS exists — to speak of Christ to all nations."
Grimenstein said people who support missionaries get regular updates from them while the missionaries serve overseas. They also are encouraged to pray for the missionaries they support.
"This allows any LCMS member to be a part of Christ's Great Commission," Grimenstein said, "actively ensuring the Word of God is spoken throughout all nations."
The Harmans feel a special connection to missionary Shara Cunningham, who is a member of their congregation.
Supporting her and the two other families is an honor, Ron Harman said.
"The Lord has blessed me with enough money since I retired that I can do all this," said Harman, a member of Christ Church Lutheran in Phoenix. "I have the resources now. It's a joy to do."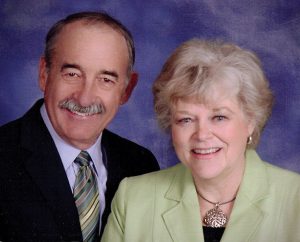 Kelly, 68, and Cheryl, 70, Keithly are part of the Ascending Roots sustaining giving group that supports the LCMS Global Mission Fund.
Members of the group send gifts monthly, quarterly, semi-annually or annually, becoming partners with the LCMS in ministry. The minimum annual commitment is $300.
The Keithlys have strong beliefs about the importance of Christian stewardship.
For Cheryl Keithly, giving to the church has been part of her entire life.
"I was raised tithing," she said. "The first dollar I earned I put a dime in the Sunday school plate. It comes naturally. It's always the first check I write. Always has been."
Like Ron Harman, Keithly said giving is a joy.
"We believe everything we have comes from God, not just our money, but our health, our material goods, jobs, everything," said Keithly, who with her husband are members of Christ Lutheran Church in Yuma, Ariz. "They are a gift and we are the stewards.
"It's all from Him."
Giving also is an act of faith for the Keithlys.
Keithly said she remembers writing checks early in the couple's marriage that they really couldn't afford but they always trusted God would work it out.
"We've learned through the years that faith is intimately tied into stewardship and our ability to give faithfully," she said. "You can't out give God. We've always tithed, even when, as my husband says, we were too poor to pay attention."
The Keithlys are delighted to be a part of the larger global mission and ministry of the LCMS.
The Keithlys, who own a vegetable seed sales business, have been married 48 years and have four children and 13 grandchildren.
Cheryl Keithly said by giving to Lutheran causes she and her husband feel a sense of ownership and belonging to a larger ministry that extends beyond their immediate church family.
"It's a joy knowing we can be a small part of it," she said. "It's the least the rest of us can do from the comfort of our homes, share the gifts God gives us."
Melanie Ave is a staff writer for LCMS Communications.