By Erik M. Lunsford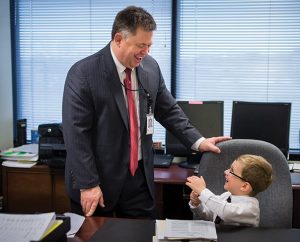 Mark Hofman wants to simplify the lives of people who give to the LCMS.
Throughout his career as a fundraiser, the executive director of LCMS Mission Advancement has seen the joy drained from the hearts of generous donors because of complicated giving options.
His advice for keeping the joy in your giving? Be intentional, Hofman said, and "spend time thinking" about what you want your gifts to achieve.
Hofman said he tailors his approach to donors to maximize his relationship with them. "They are trusting us to accomplish some very important work on their behalf," he said.
He advises donors to focus their gifts on issues that really matter to them. But, when donors make a major contribution, they should consider granting the LCMS flexibility on how to spend the gift since it best knows how to use the funds most effectively.
"We accomplish more working together than any of us could if we went at it alone," Hofman said. He urges donors to commit to a routine contribution schedule throughout the year as a way to increase their giving and decrease end-of-year "cramming."
Hofman said charitably-minded people, especially Christians, are willing to give because they know the Lord will sustain them and they see themselves as stewards of God's gifts.
"They love the Gospel," he said, "and they love their Lord."
Hofman said gifts to the LCMS have immediate and long-term impact. The ultimate goal is to bring people into the body of Christ, allowing them to receive the Word and Sacraments on a regular basis.
Donors are an important piece of the church's mission.
"You can't do anything without good people…"
"You can't do anything without good people so when we send missionaries overseas, that's immediate impact," he said. "The gifts are what provide the resources and materials to do the Witness, Mercy, Life Together,"
For donors on the fence, Hofman is passionate about earning their trust and their gifts.
"We want people to give, but what we want most is not the money but for each donor to experience the joy of something wonderful," he said. "We're the Synod's advocate to ask for support but at the same time we're the donor's advocate. We're here to help them get to the feeling of joy."
Tips for giving:
Pray about your gift.
Be intentional and consider the impact you want your money to have.
Work with the LCMS and allow for flexibility in the use of your gifts.